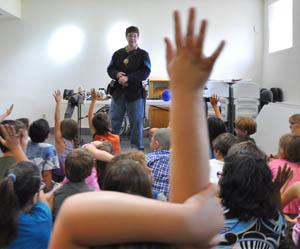 NPS Photo
Programs are available Monday and Wednesday - Friday, 9:30 a.m. - 3:30 p.m.
Due to staffing we are unable to present Ranger instructed programs on Tuesdays.
Reservations are required for both Ranger and Teacher Instructed Programs.
We currently have two programs available:
First Jail and Courtroom - 1st - 4th Grades
An interactive trip through the First Jail and Courtroom
Discovering Fort Smith: 5th - 12th Grades
In small groups, students complete discovery sheets and then reconnect with their classmates for oral presentations.
Check out the Curriculum Materials for detailed lesson and instructional plans
Pre-program Activity
Link to film Fort Smith Peacekeeper of Indian Territory on YouTube
Worksheet for Fort Smith Peacekeeper of Indian Territory
Please have students watch the film and complete the worksheet before their visit. Doing so will give them the background information they need to make their time in the park more meaningful.
Program Length and Size
In general, allow 90 minutes for the program. To maintain program quality, the group size is limited to 45 students. The required chaperone ratio is 1/10 - one adult for every ten students.
We do not have staff for groups larger than 45 people, or for more than one group at a time.
Scheduling Your Visit
Please submit the
reservation form
at least 3 weeks prior to requested tour date. This will give us time to schedule the staff for your program.
Fax: (479)783-5307 Attn: Education Coordinator.
If you have questions please call (479)783-3961.
Fee Waiver
Entry to the park's 2nd floor museum exhibits is $5 for ages 16 and up. On October 1, 2015 the entrance fee will increase to $6. Education groups may request a fee waiver to waive entrance fees for their students and accompanying chaperones over the age of 16.
To request a Fee Waiver for your group look for the "Are your requesting a fee waiver?" question on the reservation form and select "Yes". Be sure to tell us what educational objectives you are planning to meet with your classroom visit.