Stables - Tools of the Trade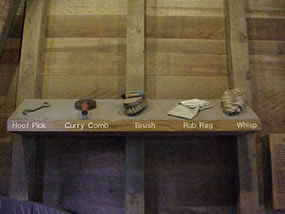 The tools or props that would be used in the stables would include the following:
Hoof Pick- a flat-edged metal hook used to clean the hooves of horses and mules.
Curry Comb- a wooden, rubber or metal oval comb with rows of dull teeth which is used to clean a horse's, mule's or ox's coat.
Brush- used to brush dust and sweat from the horse's coat and mane
Rub Rag- used to remove sweat and moisture from the horse's coat.
Whisp- a tool to clean and curry the horse's mane and tail hair. Picture of horse stall with a manger for hay and open window for fresh air.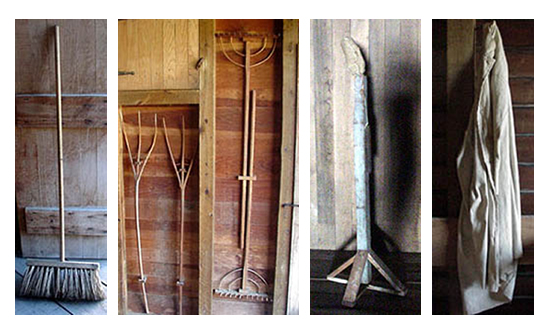 Frock Coat

- used by dragoons during stable duty.

Head

- used in drill known as "running at the heads".

Hay and Manure Forks and Rakes -

Used for cleaning out and putting hay back in stalls.

Stable Brooms -

For sweeping floors.

Shovels -

For scooping manure out of stalls (not pictured).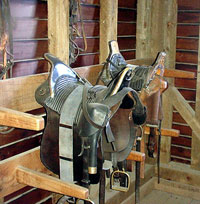 Tack

- includes saddles, halters, and bridles.

Utility Tub

- used for various chores.

Wheelbarrow