Post Recreation - Overview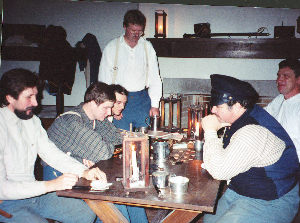 Leisure activities for both soldiers and officers were important to the health and well being of soldiers. Some leisure activities were simply a release from the pressures of military life,such as card playing. Others helped maintain good physical condition and taught skills that would enhance life on the frontier (e.g. hunting, fishing, boxing, horseback riding). Some leisure activities also promoted social skills and cameraderie. For example, soldiers would sometimes have dances or plays. Officers and their wives would have dinner parties, afternoon tea socials,engage in literary talents or other activities to alleviate the routine of army life. These pages will explore some of the activities that were important to the mental and physical health of officers,enlisted men and their families or engage in other activities.
Areas of the fort important to leisure activities include the second floor of the officers' quarters and the squad room of the dragoon barracks. The officers and their wives would entertain guests in the dining room and the parlor. The squad room in the barracks would be a place where the men read by feeble candlelight, played checkers on homemade checkerboards, or amused themselves with other games such as euchre, seven-up, forty-five and poker, at which the stakes were dried beans instead of money. Other areas of the fort where leisure activities would have been pursued were the prairie and the backyards of the officers' quarters. Hunting and horseback riding would have taken place in the prairie away from the fort, while the backyards were used for outdoor games and socials.