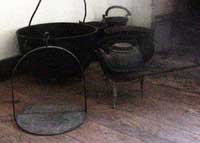 KETTLES AND PANS
Griddle - Not all griddles were designed to hand from the crane, but most were for general sautéing. Some of the hanging griddles had small feet so they could stand independently on the hearth as well. Other griddles designed solely for use over coals on the hearth floor usually had a pot-look handle, rather than a bail.
Cooking Kettle - These boiling vessels came in a variety of sizes, shapes, and materials. A common type was the rounded, cast iron model with short legs and a bail. They are frequently referred to as gypsy or times bulge kettles today. Kettles were also made of other materials as copper, bell metal, brass, and block tin. Not all had feet and those that didn't usually had flat bottoms or a frame to stabilize their round bottoms and to raised them up over the coals for cooking purposes.
Spider - A three legged stand designed to support kettles and pans.
Teakettle - A special fireplace version had a tilter attached to its cast iron base allowing the cook to pour hot water right from the crane, so he wouldn't have to lift the heavy pot. Cast iron teakettles usually had short legs, handy when placing them over the coals or simply resting them on the hearth.
Dishes and other items that are in the kitchen included tinware and redware-both pictured below. The redware is for display only.
The descriptions of these tools came from the Open Hearth Cookbook by Suzanne Goldenson and Doris Simpson. Used by permission.