Plan Your Visit
Fort Monroe National Monument is a new national park unit that will be open year-round for outdoor activities like walking and exploring the grounds. A full schedule of programming will take a few years and will be influenced by the public planning process, but look for limited programming to happen after several months. Most programming and facilities are currently operated through our partners.
Download a map of Fort Monroe National Monument.
Casemate Museum
The Casemate Museum is operated the Commonwealth of Virginia with curatorial support provided by the United States Army. The Casemate Museum is open Tuesday - Sunday from 10:30 a.m. to 4:30 p.m except Easter, Thanksgiving, December 25, and January 1. The Casemate Museum will be open on Memorial Day and Labor Day. Guided tours for pre-formed groups of 10 or more (and school groups grade 3 and above) are available with a two-week notice.Admission is free and the facility is wheelchair accessible. Phone Number: (757) 788-3391. Check out the Casemate Museum's Facebook page.
Tourism and Recreation
The Fort Monroe Authority has information on tourism and recreation opportunities in the "visitors" section of their website: http://www.fmauthority.com/community/facilities.php
Other Links
Virginia Tourism
Hampton Convention and Visitors Bureau
Hey Kids!
Learn more about forts in this online WebRangers activity.
Did You Know?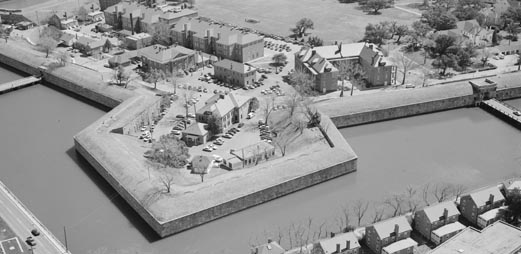 Hampton University can trace its existence to the American Missionary Association and Mary S. Peake, its first Black Teacher. Peake taught former slaves encamped for protection near Fort Monroe and had previously defied Virginia law to teach slaves to read and write.