Fort Monroe National Monument's First Annual Junior Ranger Day!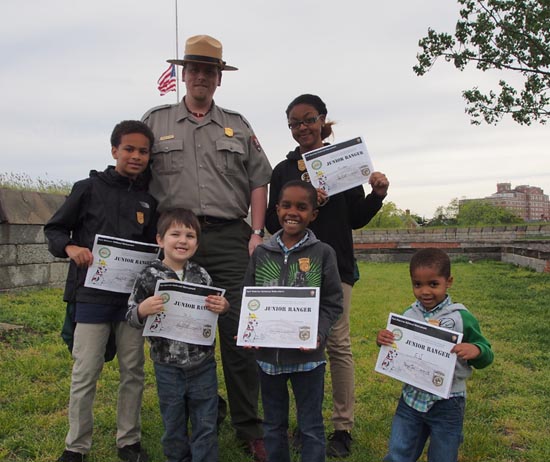 nps/Kirsten Talken-Spaulding
News Release Date:
April 21, 2013
Contact:
Eola Dance, (757) 722-FORT (3678)
Fort Monroe National Monument's First Junior Ranger Activity Booklet.
Tags: Fort Monroe, parade ground, Junior Ranger, Fort Monroe National Monument, National Junior Ranger Day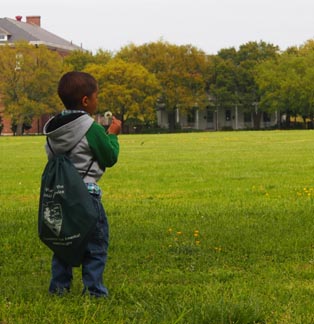 NPS/Kirsten Talken-Spaulding
It wasn't that long ago, that Fort Monroe, in Hampton, Virginia, became a National monument by Presidential Proclamation on November 1, 2011. It makes it even more impressive that Fort Monroe National Monument recently launched its first-ever junior ranger program on, appropriately enough, National Junior Ranger Day, April 20, 2013.
The day began at Building #17 - Lee's Quarters, where then 24 year old, Lieutenant Robert E. Lee lived when he was stationed at Fort Monroe. He would later become one of the most famous generals in history. Park Staff gave the participating children an introduction to the junior ranger program and provided activity booklets. Next Park Ranger Aaron Firth led the young junior rangers onto the Parade Ground to examine the "Lincoln Gun," a massive cannon that rests there. "The children did great on their scavenger hunts, searching for answers to their booklet questions and being inquisitive about the site!" Ranger Firth added.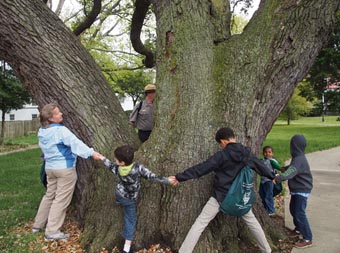 NPS/Kirsten Talken-Spaulding
The group then visited an impressive Live Oak found on the Parade Ground, that is a "witness tree." Ranger Firth explained it is a "witness tree," "because the 'Algernourne Oak' stands sentinel over the Parade Ground today, just as it has since before the arrival of the first English colonists in 1607 when only the American Indian were here to enjoy all that this small piece of land has to offer." So how many junior and not-so junior rangers does it take to hug a tree that is well over 400 years old, you might ask? Well, that would be thirteen!
Later they ventured to the top of the fort's walls and looked out towards the Chesapeake Bay. Ranger Firth pointed to the waters of Hampton Roads, where the USS Monitor and the CSS Virginia clashed during the Battle of the Ironclads in 1862,
and asked the young junior rangers to imagine themselves at this same viewpoint 151 years ago.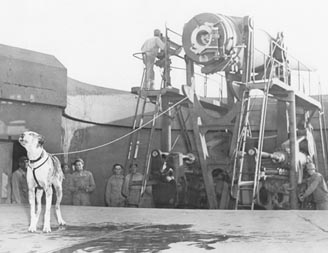 United States Army
Finally, the junior rangers learned about Fort Monroe's pet cemetery where over 400 officers and enlisted soldiers laid to rest their beloved pets atop the fort's walls. Among the many notable graves is that of a clever Great Dane named Sergeant Patches. During World War II, this top dog was taught to pull the lanyard and fire a 12-inch disappearing gun at Battery DeRussy. Sgt. Patches served as the mascot for the 2nd Coast Artillery, Battery G. Today, his likeness is used as the mascot for Fort Monroe National Monument's new Junior Ranger Activity Booklet and proudly graces its pages to help recruit new junior rangers to join the ranks.