Special Operating Hours during the Star-Spangled Spectacular: September 6-16, 2014

The park will have special operating hours during the Star-Spangled Spectacular: September 6-16, 2014. Please visit this link for more information: More »
Road Closures and Mass Transit options during the Star-Spangled Spectacular: September 6-16, 2014

There will be road closures during the Star-Spangled Spectacular: September 6-16, 2014. Mass transit will be required & all visitors will pass through a security checkpoint prior to entering Fort McHenry. Please visit this link for more information: More »
Maps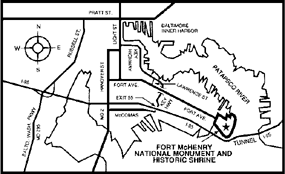 The park is three miles southeast of the Baltimore Inner Harbor and just off I-95. Follow the brown Fort McHenry directional signs along all major routes to the park. From I-95 northbound, take Exit 55 Key Highway and follow Fort McHenry signs. From I-95 southbound, as you approach the Fort McHenry Tunnel, move to the toll booths on the far right as you will be exiting immediately after emerging from the tunnel. Take Exit 55 Key Highway and follow the Fort McHenry signs USING LAWRENCE STREET AND NOT WOODALL, as your GPS or Mapquest might indicate.
From the Inner Harbor, take Light Street south to Key Highway. Turn left and follow the Fort McHenry signs to Lawrence Street. Turn right on Lawrence Street and then left on Fort Avenue to the park.
GPS - Park Address:
2400 East Fort Avenue
Baltimore, MD 21230
Larger Map Image (PDF 343KB)


Did You Know?

Pvt. William Williams, a run-away slave, joined the U.S. Artillery and defended Fort McHenry. He was severely wounded during the battle and died two weeks later.