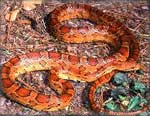 K. Krysko -- Used by Permission
Snakes and Turtles and Frogs, Oh My!
During 1998 and 1999, Dr. F. Wayne King from the University of Florida conducted an extensive survey of the reptiles and amphibians found at Fort Matanzas National Monument. Click for the results of his study complete with information on each species' ecology and habitat and photographs like this one of a red rat snake (corn snake), one of the beautiful, non-poisonous snakes at Fort Matanzas.