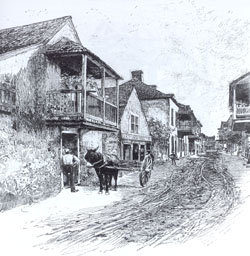 Drawing from the 1892 Standard Guide to St. Augustine
After nine years of abuse and mistreatment, the remaining Menorcans sent a delegation to Saint Augustine to seek asylum. After walking the 70 miles to Saint Augustine, they met with the new English governor Patrick Tonyn who granted the asylum, giving them a small portion of the town to live in.
About six hundred Menorcans fled to St. Augustine, leaving the ill-fated colony in a shambles from which it would never recover.
Over the next 200 years, the Menorcans and their descendants have become a strong and vital community in Saint Augustine and the surrounding area. The Menorcans were tradesmen-- farmers, fishermen, stonemasons, carpenters, shopkeepers, sailors, and blacksmiths-- skills much appreciated in the British colony.
The story of the Menorcan struggle is found in the recorded Catholic Church documents of the spiritual leader of the Menorcans, Father Pedro Camps. His records, known as The Golden Book of the Menorcans is the basis for much of what is known about the early Menorcan history in Florida. Today it is believed that over 10,000 descendants of the original Menorcans still live in the Saint Augustine/ Saint Johns County area. Some of the Menorcan names still found alive in the area are: Pellicer, Leonardi, Pappy, Mastre or Masters, Fazio, Andreu, Benet, Capalla, Usina, Pomar, Triay, Genovar, Hernandez, Acosta, Pacetti, Rogero, Lopez, Ponce, Oliveros, Cernopoly, Medicis, and Bravo. These are just a few. There are many more. St. Augustine still celebrates annual Menorcan and Greek festivals to this day.
Some of this information was adapted from the web site of the Menorcan Cultural Society of St. Augustine, Florida.