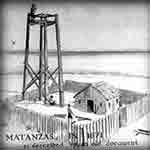 Drawing by Albert Manucy
Early Watchtowers
As early as 1569 the Spanish recognized the vulnerability of the Matanzas Inlet and built a wooden watchtower and a thatched hut to house six soldiers who took turns scanning the horizon. If a ship was sighted, a runner or small boat set out to warn St. Augustine. Watching and warning were the tower's tasks for it lacked any armament.
At least twice the watchtower kept pirates from coming in this "backdoor". In 1683 English outlaws captured the watchtower, but word made it to St. Augustine, and ships and soldiers came and drove them off. In 1686 French pirates attempted to come into the inlet, but again word was sent to St. Augustine, and these pirates, too, were repulsed.
In Florida's warm, wet climate, these wooden watchtowers often had to be rebuilt or replaced. No sign of any of the towers remain, but archaeological evidence suggests that they may have been on Anastasia Island in the vicinity of the park's visitor center.