Museum Closure

The Visitor Center contact station is functioning out of the park auditorium. This is because the official Visitor Center is closed while it undergoes major rehabilitation. Completion date; summer 2014. Everything else is open, as usual, at the park.
Special Events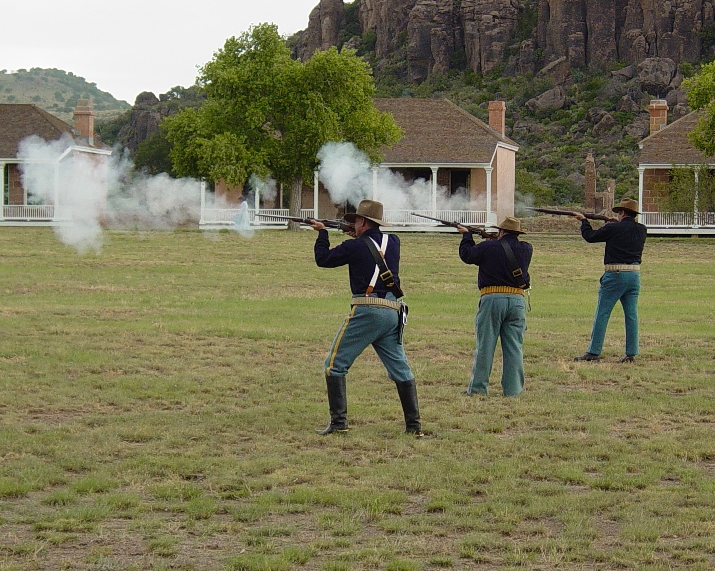 Living History Small Arms Demo.

Fee Free Days 2014:
January 20 Martin Luther King, Jr. Day
February 15-17 Presidents Day Weekend
April 19-20 National Park Week Opening Weekend
August 25 National Park Service Birthday
September 27 National Public Lands Day
November 11 Veterans Day Weekend
PARK CLOSED: Thanksgiving Day, Christmas Day, New Year's Day, and Martin Luther King Jr. Day

Events 2014
-March 8 - 15th Spring Break Living History Tours and Demonstrations. Daily programs at 10AM and 2:30PM. Program Flier[WORD|PDF]
-Summer Junior Ranger Days: June 10, 18 and 26; July 19 and 27; August 2! See our flier in MS Word or PDF.
-Independence Day Weekend Activities! We will march in the town parade and have lots of living history participants at the fort. For more parade information view the Fort Davis Chamber of Commerce website HERE!
-August 30, 2014 Old Fort Day Festival: Cammels, Cavalry & Cannons!
Check back for more!
Did You Know?

After Fort Davis was abandoned in 1891, the remains of those buried in the post cemetery were re-interred in the National Cemetery at San Antonio.