Special Events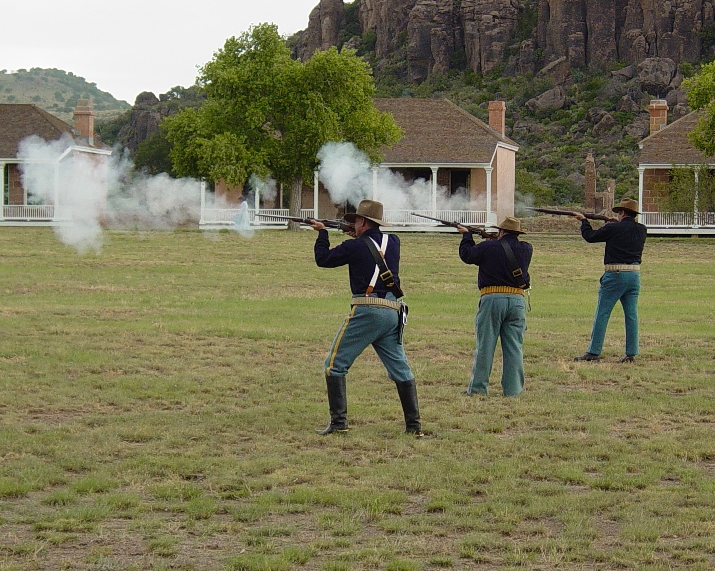 Living History Small Arms Demo.

Fee Free Days 2014:
January 20 Martin Luther King, Jr. Day
February 15-17 Presidents Day Weekend
April 19-20 National Park Week Opening Weekend
August 25 National Park Service Birthday
September 27 National Public Lands Day
November 11 Veterans Day Weekend
PARK CLOSED: Thanksgiving Day, Christmas Day, New Year's Day, and Martin Luther King Jr. Day

Events 2014
-March 8 - 15th Spring Break Living History Tours and Demonstrations. Daily programs at 10AM and 2:30PM. Program Flier[WORD|PDF]
-Summer Junior Ranger Days: June 10, 18 and 26; July 19 and 27; August 2! See our flier in MS Word or PDF.
-Davis Mountains State Park - Saturday Evening Programs! [June 14th - August 16th] 7:00PM every Saturday except July 5th. One hour programs at the DMSP Amphitheater. Flier
-Independence Day Weekend Activities! We will march in the town parade and have lots of living history participants at the fort. For more parade information view the Fort Davis Chamber of Commerce website HERE!
-August 30, 2014 Old Fort Day Festival: Camels, Cavalry & Cannons!
-September 27, 2014 Frontier & Mule Daze Parade we will participate in this living history parade through town for more info.: www.fortdavis.com/MuleDaze.html
-October 17 & 18, 2014 Historic Fort Stockton, 301 S. Main, Fort Stockton TX 79735. "Living History Days" 9:00AM - 3:00PM http://historicfortstocktontx.com/
-October 18, 2014 Big Bend National Park Good Neighbor Day Celebration! Free Admission for this event. 9AM - 6PM at the Rio Grande Village group campground.
www.nps.gov/BIBE
-December our furnished historic buildings will be decorated for the holiday season!
Check back for more!