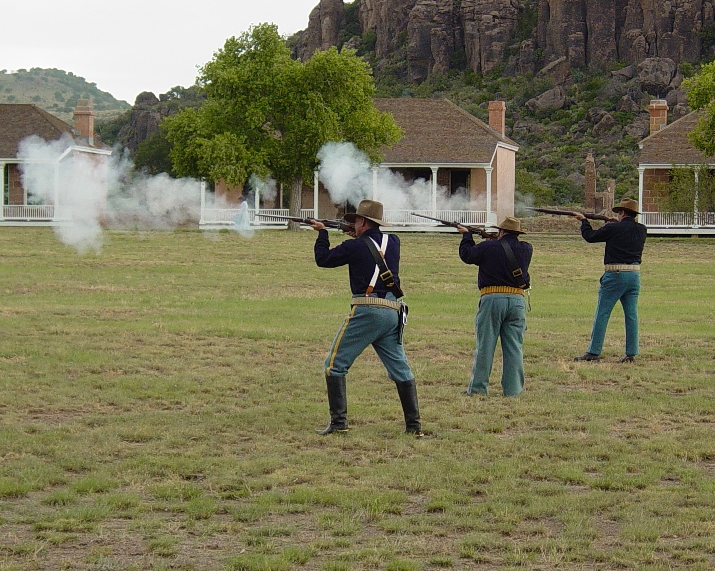 Living History Small Arms Demo.

Fee Free Days 2015:
January 19 Martin Luther King, Jr. Day
February 14-16 Presidents Day Weekend
April 18-19 National Park Week Opening Weekend
August 25 National Park Service Birthday
September 26 National Public Lands Day
November 11 Veterans Day Weekend
PARK CLOSED: Thanksgiving Day, Christmas Day, New Year's Day, and Martin Luther King Jr. Day

Events 2015
-April 2 Texas History Day at the Annie Riggs Memorial Museum, Fort Stockton TX
-April 24-26 Fair Park Dallas, TX Volunteers from Fort Davis will be a part of Earth Day Texas http://earthdaytx.org/
-Summer Junior Ranger Days: Flier MS Word / Flier PDF
-Davis Mountains State Park - Saturday Evening Programs! [June 13th - August 15th] 7:00PM every Saturday. One hour programs at the DMSP Amphitheater.
-Independence Day Weekend Activities! We will march in the town parade and have lots of living history participants at the fort.
Saturday July 4th 10:00am parade through town, Living History 1-4pm, Civil War Video in Auditorium 2:30pm, Artillery Demonstration and Flag Lowering Ceremony 4:30pm, 7:00pm a one hour program will be held at the Davis Mountains State Park Amphitheater, lots of games and 4th of July FUN!
For more parade information view the Fort Davis Chamber of Commerce website HERE!
Sunday July 5th Living History at the fort 10:00am-4:00pm, 2:00pm 1800s Baseball, 3:00pm Small Arms Demonstration. Flier MS Word / Flier PDF
-September 5th Living History 10:00AM - 4:00PM
-September 6th Living History 10:00AM - 4:00PM Artillery Fire Demo & Flag Lowering 4:00PM
-September 7th Ranger Guided Tour 10:00AM
- October 17th at the Annie Riggs Memorial Museum Fort Stockton Living History Day
-December our furnished historic buildings will be decorated for the holiday season!
Check back for more!