Museum Closure

Our park museum will be closed April 15, 2013 till 2014. This will also affect our park orientation film screening; it will be limited to 8-10 visitors at a time. The rest of the park is open for visitation. We are sorry for the inconvenience.
Special Events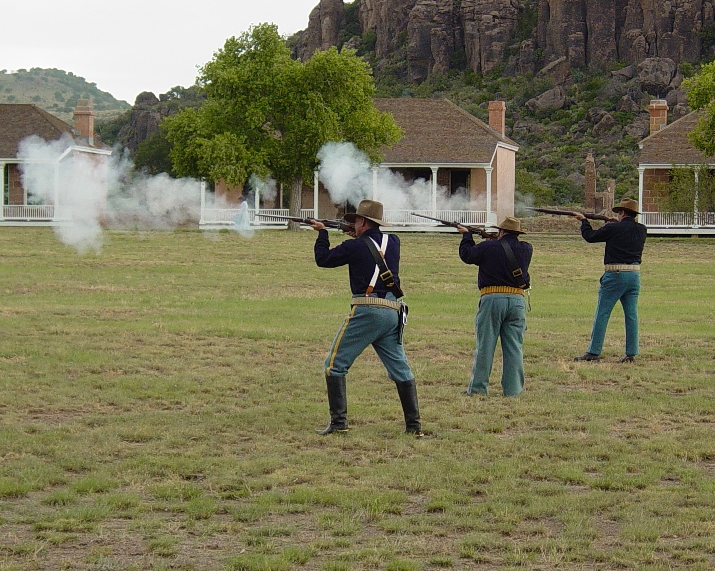 Living History Small Arms Demo.

Fee Free Days 2013:
January 21 Martin Luther King, Jr. Day
April 22-26 National Park Week
August 25 National Park Service Birthday
September 28 National Public Lands Day
November 9-11 Veterans Day Weekend
PARK CLOSED: Thanksgiving Day, Christmas Day, New Year's Day, and Martin Luther King Jr. Day


Coming Events 2013
-Summer Junior Ranger Days: June 10, 18 and 26; July 4, 19 and 27; August 2! See our flier in MS Word or PDF.
-Independence Day Weekend Activities! We will march in the town parade, have living history and artillery demonstrations. View the Fort Davis Chamber of Commerce Flier HERE!
-Columbus Day Weekend (Saturday, October 12th) Evening Tours
Check back for more!
Did You Know?

To Apaches and Comanches, the stagecoaches on the San Antonio-El Paso Road were inviting prey.  They carried fewer defenders than most freight trains and made their way across Texas with predictable regularity.