Museum Closure

The Visitor Center contact station is functioning out of the park auditorium. This is because the official Visitor Center is closed while it undergoes major rehabilitation. Completion date; summer 2014. Everything else is open, as usual, at the park.
Maps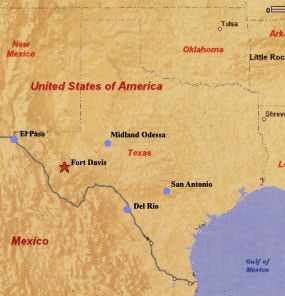 For a map and driving directions to Fort Davis click on one of the cities to the left of this map.


Did You Know?

Fort Davis is located 400 miles from San Antonio and 200 miles from Franklin (present-day El Paso) on the San Antonio-El Paso Road. The road experienced an upsurge of traffic in the early 1850s following the discovery of gold in California.