Museum Closure

Our park museum will be closed April 15, 2013 till 2014. This will also affect our park orientation film screening; it will be limited to 8-10 visitors at a time. The rest of the park is open for visitation. We are sorry for the inconvenience.
Public Transportation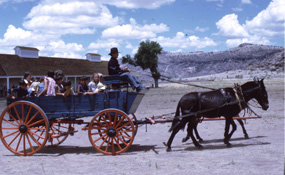 Photo by Joe E. Jay
via Air: You can fly into either El Paso or Midland/Odessa, then rent a car and follow the directions to Fort Davis. If you have a private plane, both Alpine and Marfa have municipal airports.
via Train: Amtrak has service from San Antonio and Los Angeles that stops in Alpine. You can rent a car and take Highway 118 North to Fort Davis. (About 1/2 hour)


Did You Know?

To Apaches and Comanches, the stagecoaches on the San Antonio-El Paso Road were inviting prey.  They carried fewer defenders than most freight trains and made their way across Texas with predictable regularity.