Museum Closure

The Visitor Center contact station is functioning out of the park auditorium. This is because the official Visitor Center is closed while it undergoes major rehabilitation. Completion date; summer 2014. Everything else is open, as usual, at the park.
Public Transportation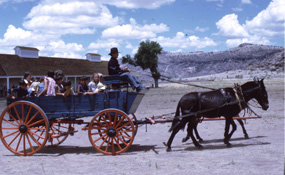 Photo by Joe E. Jay
via Air: You can fly into either El Paso or Midland/Odessa, then rent a car and follow the directions to Fort Davis. If you have a private plane, both Alpine and Marfa have municipal airports.
via Train: Amtrak has service from San Antonio and Los Angeles that stops in Alpine. You can rent a car and take Highway 118 North to Fort Davis. (About 1/2 hour)


Did You Know?

The legendary and mythical character of "Pecos Bill" is based on the life of William R. Shafter. Lt. Colonel Shafter took his men on exhausting expeditions in search of raiding Indian bands in the arid region of West Texas near the Pecos River. He commanded Fort Davis in 1871-72 and 1881-82.