Museum Closure

Our park museum will be closed April 15, 2013 till 2014. This will also affect our park orientation film screening; it will be limited to 8-10 visitors at a time. The rest of the park is open for visitation. We are sorry for the inconvenience.
Operating Hours & Seasons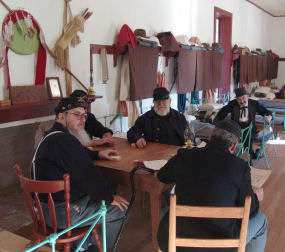 NPS Photo by Max Kandler
Open: 8:00 a.m. to 5:00 p.m. Central Time



Holiday Closures: Thanksgiving Day, Christmas Day, New Year's Day, and Martin Luther King Jr. Holiday.


2013 Free entrance to Fort Davis NHS (and all units of the National Park Service):
Make plans now to visit the national parks on these 2013 fee-free dates:
January 21
Martin Luther King, Jr. Day

April 22-26
National Park Week

August 25
National Park Service Birthday

September 28
National Public Lands Day

November 9-11
Veterans Day weekend


Did You Know?

Fort Davis was one of the largest military posts in Texas. In the spring of 1884, over 600 soldiers (5% or 1/20th of the U.S. Army) was assigned to the fort.