Museum Closure

The park auditorium is undergoing major rehabilitation and can only accommodate 15 persons watching the film at once. We play it every half hour, or on an as needed basis. Completion date; spring 2015. Everything else is open, as usual, at the park.
Operating Hours & Seasons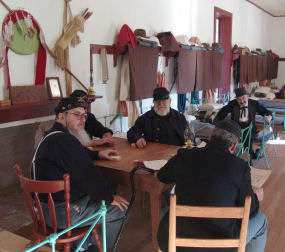 NPS Photo by Max Kandler
Open: 8:00 a.m. to 5:00 p.m. Central Time



Holiday Closures: Thanksgiving Day, Christmas Day, New Year's Day, and Martin Luther King Jr. Holiday.


2014 Free entrance to Fort Davis NHS (and all units of the National Park Service):
Make plans now to visit the national parks on these 2014 fee-free dates:
January 20
Martin Luther King Jr. Day
February 15-17
Presidents Day weekend

April 19-20
opening weekend of National Park Week

August 25
National Park Service Birthday

September 27
National Public Lands Day

November 11
Veterans Day



Did You Know?

When completed, the restored post hospital will provide visitors with an understanding and appreciation of a segment of garrison life often overlooked. It will serve to better tell the story of those who lived and sometimes died at Fort Davis during the last quarter of the 19th century.