Museum Closure

The park auditorium is undergoing major rehabilitation and can only accommodate 15 persons watching the film at once. We play it every half hour, or on an as needed basis. Completion date; spring 2015. Everything else is open, as usual, at the park.
Fees & Reservations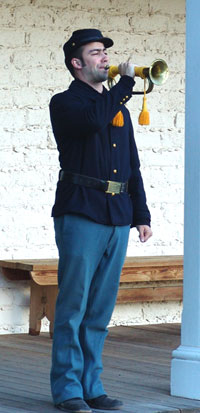 Individual Fees
$3.00 - 7 Days
Details
Park Entrance fee is $3.00 per person for visitors 16 years and older. Children 15 and under are free.
Group Visit Fees
$3.00 - 7 Days
Details
Fee for commercial groups is $3.00 per person age 16 and over. Educational groups may request a fee waiver in writing on school letterhead prior to visit.
Entrance Passes
Specific passes for free entrance to the park are honored and are also available at the Visitor Center.
Click here for more information.
Fort Davis NHS Annual Pass
You can buy an annual pass to Fort Davis National Historic Site for $12. This pass will admit the pass owner, spouse, parents, and children to the Fort for 12 months from the month of purchase.
Film Permits
Commercial filming permits are arranged on an individual basis. Contact the Superintendent at (432) 426-3224, ext. 220


Did You Know?

Units of the 9th and 10th Cavalry and 24th and 25th Infantry served at Fort Davis from 1867 through 1885. Organized after the Civil War with African American soldiers with white officers, these units compiled a notable record on the Indian frontier.