Museum Closure

Our park museum will be closed April 15, 2013 till 2014. This will also affect our park orientation film screening; it will be limited to 8-10 visitors at a time. The rest of the park is open for visitation. We are sorry for the inconvenience.
Directions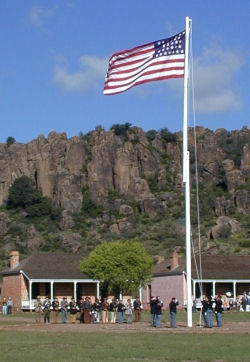 Photo by Max Kandler
from
El Paso: Take I-10 east to Van Horn. At Van Horn take Highway 90 east. Just south of Valentine take Highway 505 and then 166 east. Turn left on Highway 17 and follow it to Fort Davis or continue south on Highway 90 to Marfa and then turn left on Highway 17 to Fort Davis.
Alternate Route:
From Van Horn take I-10 east to Kent and then turn south on 118 to Fort Davis. (About 4 hours)
map
from
Midland/Odessa: Take I-20 west to Pecos. From Pecos take Highway 17 south through Balmorhea to Fort Davis. (About 2.5 hours)
map
from
San Antonio: Take I-10 west to Balmorhea. Then take Highway 17 south to Fort Davis. (About 7 hours)
map
from
Del Rio: Take Highway 90 west to Alpine. From Alpine take Highway 118 north to Fort Davis. (About 3.5 hours)
map


Did You Know?
Colonel Benjamin H. Grierson commanded the 10th Cavalry from its organization in 1866 until 1888. Grierson was post commander at Fort Davis from November of 1882 to April of 1885.