Museum Closure

The Visitor Center contact station is functioning out of the park auditorium. This is because the official Visitor Center is closed while it undergoes major rehabilitation. Completion date; summer 2014. Everything else is open, as usual, at the park.
Directions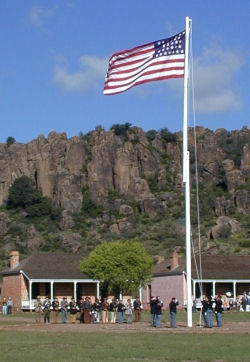 Photo by Max Kandler
from
El Paso: Take I-10 east to Van Horn. At Van Horn take Highway 90 east. Just south of Valentine take Highway 505 and then 166 east. Turn left on Highway 17 and follow it to Fort Davis or continue south on Highway 90 to Marfa and then turn left on Highway 17 to Fort Davis.
Alternate Route:
From Van Horn take I-10 east to Kent and then turn south on 118 to Fort Davis. (About 4 hours)
map
from
Midland/Odessa: Take I-20 west to Pecos. From Pecos take Highway 17 south through Balmorhea to Fort Davis. (About 2.5 hours)
map
from
San Antonio: Take I-10 west to Balmorhea. Then take Highway 17 south to Fort Davis. (About 7 hours)
map
from
Del Rio: Take Highway 90 west to Alpine. From Alpine take Highway 118 north to Fort Davis. (About 3.5 hours)
map


Did You Know?

Scurvy swept the garrison at Fort Davis in the spring of 1868, and the post surgeon, Daniel Weisel, stressed the necessity of including plenty of fresh vegetables in the diet. In 1869 he persuaded Colonel Merritt, the fort's commander, to start a post garden.