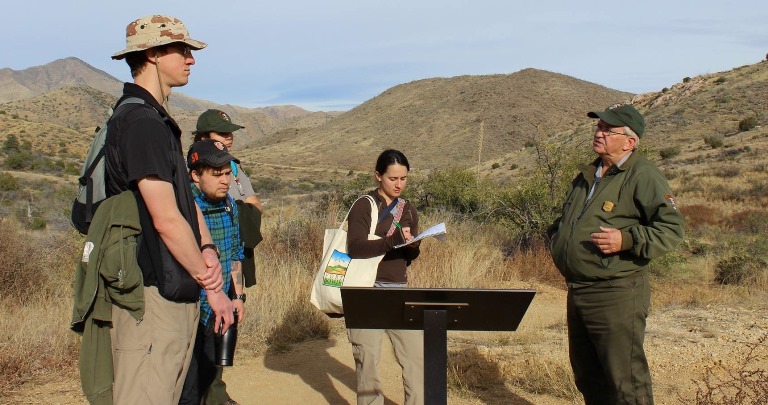 NPS Photo
Activities
Activities include bird watching, hiking, and wildlife viewing. While at the fort, visitors can tour the ruins of Fort Bowie and view the exhibits inside the visitor center. Picnic facilities are located at the trailhead on Apache Pass Road and the visitor center.
Do you have a group that would like a ranger-led program or guided hike? Contact the visitor center in advance to schedule a program at 520-847-2500 x 1.

Spring Ranger-led Programs
March 5 - May 3, 2015
Thursdays - Sundays
Guided Hike – 10:00am – 2 Hours
Join a ranger at the Apache Pass Trailhead to hike the 1.5 mile trail into fort. Along the way, experience a chronological chain of events. Hike back the 1.5 mile return trail on your own.
Ruins Tour – 1:00pm – 1 Hour
What stories would be told if the walls of Fort Bowie could talk? Meet at the visitor center to take a tour of the ruins to hear about those who have served and their experiences while serving at Fort Bowie.
Apache Culture – Upon Request – 15 Minutes
What can you truly know about a group of people if you only look at their warriors? Explore the fascinating rituals of the Apache people, their use of native plants, and more! Ask at the visitor center about this program to explore an extraordinary culture.
A Day in the Life – Upon Request – 15 Minutes
Life on an isolated, frontier fort was quite different than what most Americans experienced. The day-to-day functions of the garrison were strict, scheduled, and dull. All the while, life on the campaign trail could be thrilling, but affording few comforts of home. Ask at the visitor center about this program to discover a very different life than we experience today.
All programs are FREE and open to both individuals and groups. Bring water, a snack or picnic lunch, sun protection, layered clothing and a camera.
For driving directions and more information, please visit www.nps.gov/fobo or call the visitor center at 520-847-2500 x1.