Plan Your Visit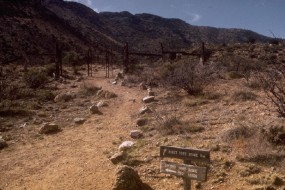 NPS Photo
The hike in to the fort is part of the Fort Bowie experience. Visitors can get a sense of the lonely isolation that the soldiers experienced while stationed there. The trail winds past remains of a Butterfield Stage Coach Station, the post cemetery, an Apache wickiup, the Chiricahua Apache Indian Agency, Apache Spring, the original fort and finally the more elaborate Fort Bowie and the visitor center. A minimum of two hours is recommended for the round trip visit. While at the fort, visitors can tour the ruins of Fort Bowie, view the exhibits inside the visitor center, bird watch, and hike the trails. Picnic facilities are located at the trailhead and the visitor center
Unable to make the hike in?
The story of Apache Pass and the events that led to the establishment of Fort Bowie are best understood via a 3-mile roundtrip hike from the trailhead on Apache Pass Road to the visitor center and second fort ruins. Interpretive signs along the way help explain and illustrate the historical importance of this mountain pass in the decades-long conflict between the US Military and Apache people in the late 1800s. Considered by most to be a "moderate" hike, the just under 200 foot elevation gain, uneven terrain and semi-arid desert environment can prove to be a tad too much for some park visitors.
An alternative access, which includes driving along a narrow gravel road and limited parking spaces, is an option for visitors unable to make the hike. Following the ADA accessible icon signs from Apache Pass Road, passenger vehicles can travel Old Fort Bowie Road until it dead-ends in a small administrative area at Fort Bowie NHS. From the parking lot, visitors follow a trail that is 500 feet in length and ascends approximately 80 feet in elevation to reach the visitor center at the edge of the second fort ruins. If unable to climb the steps, visitors can arrange to have a gate opened that allows them to drive a vehicle to the visitor center and unload wheelchair users or other folks with limited mobility. Because this method traverses fragile park resources, it is reserved as a limited option for those folks that are unable to visit the fort ruins without it. Contact the visitor center staff at 520-847-2500, ext. 1, for more information on accessing Fort Bowie NHS. Please note parking is not available in the administrative area for buses, RVs, or trailers.