Public Meeting to Update Restoration Efforts for Lamberts Run
Date:
September 24, 2012
Contact:
Keith Newlin, (814) 886-6121
Stoystown, Pa. - The National Park Service will host an informational meeting to provide an update on the cleanup and restoration efforts for Lamberts Run, which is highly impacted by acid mine drainage (AMD). The meeting will be held on Tuesday, October 9 at 11 a.m. at the Flight 93 National Memorial headquarters, 6424 Lincoln Highway in Stoystown. The meeting is open to the public. 

Lamberts Run, which is adjacent to the Flight 93 National Memorial, has long been polluted by AMD from underground mines that were abandoned prior to World War II. Several watershed partners, including the National Park Service, the Somerset Conservation District, the Somerset Conservancy, the Office of Surface Mining, Reclamation and Enforcement, and the Pennsylvania Department of Environmental Protection have joined in the effort to clean up this tributary stream.
About the Memorial
Flight 93 National Memorial is a tribute to the passengers and crew of United Flight 93 and is a place to explore and discover their inspiring story of courage and hope. A 3.5 mile scenic drive leads visitors from the entrance at US Route 30 to the Memorial Plaza at the crash site where visitors may view panels in an outdoor exhibit area and learn more through cell phone tours; talk with Park Rangers and volunteer Ambassadors; participate in interpretive programs; view the field where Flight 93 crashed, which is the final rest­ing place of the passengers and crew; and walk along the Wall of Names.       
  
                                                              NPS
Did You Know?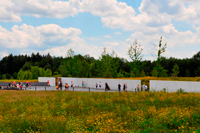 The Memorial Plaza at the crash site is now open to the public. Work continues on other elements of the memorial. More...