Ground Breaking Ceremony
Date:
October 28, 2009
U.S. SECRETARY OF THE INTERIOR KEN SALAZAR
TO LEAD FLIGHT 93 NATIONAL MEMORIAL
GROUNDBREAKING CEREMONY
ON NOVEMBER 7TH
………………………
WHEN: 9:00AM Flight 93 Memorial Task Force and Flight 93 Advisory Commission Meeting – The quarterly combined meeting will be held from 9:00-11:00AM in Courtroom #1 of the Somerset County Courthouse, 111 East Union Street, Somerset, Pennsylvania.
Noon Groundbreaking Ceremony -- The brief ceremony will begin at 12:00 NOON. It will occur a short distance from the impact site on Skyline Road near the temporary memorial. The ceremony is open to the public. It will take place outdoors and regardless of the weather. Please dress appropriately.
                                                             ………………………
At the site of the Flight 93 National Memorial, overlooking the ground that was tragically first broken on September 11, 2001 when United Flight 93 plunged into a remote Pennsylvania field while its passengers and crew members heroically fought to resist a terrorist attack on our nation's capital, U.S. Secretary of the Interior Ken Salazar will lead a groundbreaking ceremony at 12 noon on November 7th.
Secretary Salazar, whose efforts led to agreements between the federal government and the private owners of properties needed for the construction of the permanent National Memorial, will be joined by elected officials including Pennsylvania Governor Ed Rendell, U.S. Senator Bob Casey, and U.S. Representatives John Murtha and Bill Shuster. In addition, members of the Families of Flight 93, officials representing the National Park Service, the National Park Foundation, the Flight 93 Advisory Commission and the Flight 93 Memorial Task Force, as well as others – including first responders – will participate.
Young relatives of the heroes who perished that day are among those who will take shovels in hand to "turn the earth," symbolically signifying the start of a new planning and construction phase for the Flight 93 National Memorial. Many who were touched by the tragedy or connected to the National Memorial's creation will surround the participants as witnesses to the solemn ceremony.
The groundbreaking is a key milestone in the creation of the permanent National Memorial. The goal of a November groundbreaking was first laid out in the February 20, 2009 Letter of Commitment signed by federal and state officials, members of the Families of Flight 93 and others.
 "This groundbreaking will mark a critical step in fulfilling the sacred promise we made to build an inspiring permanent Flight 93 National Memorial that honors our loved ones and will educategenerations about their heroic actions. We are indebted to Secretary Salazar, our elected officials, and our other Memorial partners for their commitment to making this milestone a reality," said Gordon Felt, president, Families of Flight 93.
"Meeting this milestone will give renewed momentum to our mission - creating a fitting National Memorial to the 40 Flight 93 heroes who lost their lives in freedom's name," said John Reynolds, chairman, Flight 93 Advisory Commission.
"Achieving this milestone will reflect the steady progress that we have made and must keep making, so that we meet the goal of dedicating the Flight 93 National Memorial by September 11, 2011," said Flight 93 Memorial Task Force co-chair Jerry Spangler.
"This event would not be possible without the hard work and determination of all our Flight 93 Memorial partners. We thank the thousands of people from across the country and the world, whose ongoing generosity has helped to provide the resources that have brought us closer to constructing the National Memorial," said Neil Mulholland, president and CEO, National Park Foundation.
For more information, contact the National Park Service office at 814.443.4557
MEDIA INQUIRIES
FOR FLIGHT 93 MEMORIAL PARTNERS
Lisa Linden (212) 575-4545
Linden Alschuler & Kaplan PR
llinden@lakpr.com

FOR UNITED STATES SECRETARY OF THE INTERIOR KEN SALAZAR
Kendra Barkoff (202) 713-0827
Kendra_Barkoff@ios.doi.gov
Did You Know?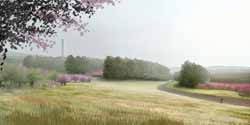 The Flight 93 National Memorial design was selected from over 1,000 entries from 48 states and 27 countries in an international design competition.