Possible Construction Delays - US 30

Short delays are possible along US 30 at PA 281 due to construction - April 1 - October, 2013
Management
The National Park Service works to ensure that the story of Flight 93 will be told for generations to come and that the crash site of Flight 93 is protected unimpaired in perpetuity.
This goal can only be achieved through will the help of a dedicated group of partners - the Families of Flight 93, the Flight 93 Advisory Commission, the National Park Foundation, the local community and many others.
There are many ways for you to be involved. Whether you want to be a park volunteer, contribute to the development of the memorial, or be one of the hundreds of thousands of people who visit the memorial, we welcome you and invite you to help tell the story of Flight 93.


Did You Know?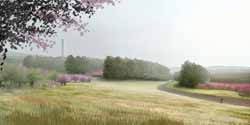 The Flight 93 National Memorial design was selected from over 1,000 entries from 48 states and 27 countries in an international design competition.