Change to Winter Hours of Operation

Monday October 13, 2014 was the first day of winter hours of operation. Open: 9 am Last Entry: 4:30 pm Close: 5 pm More »
A common field one day.                            A field of honor forever.
On Tuesday morning, September 11, 2001, the U.S. came under attack when four commercial airliners were hijacked and used to strike targets on the ground. Nearly 3,000 people tragically lost their lives. Because of the actions of the 40 passengers and crew aboard one of the planes, Flight 93, the attack on the U.S. Capitol was thwarted.

Did You Know?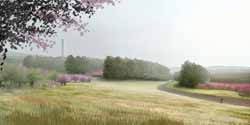 The Flight 93 National Memorial design was selected from over 1,000 entries from 48 states and 27 countries in an international design competition.