Exhibit Installation May 14 - 22

New exhibits will be installed in the new visitor center May 14 - 22. Access to the park film and exhibits may be reduced. You may want to consider visiting after May 23 if you schedule permits. The park remains open every day from 9am - 5pm.
Self-Guided Trails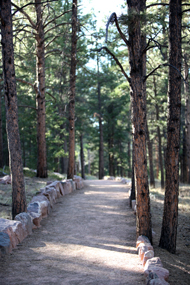 NPS Photo by Sheena Grabski
There are three self-guided tours that are available year-round. Brochures for these tours are available at the visitor center desk. The trails are the Petrified Forest Walk, the Ponderosa Loop Trail, and a tour of the grounds of the Hornbek Homestead.
Petrified Forest Walk
This one-mile trail passes massive, petrified Redwood stumps, an historic excavation site, and a geologic timeline exhibit. This gravel trail is relatively flat and is mostly out in the open. The trail begins at the end of the outdoor exhibit area which is behind the visitor center.
Ponderosa Loop Trail
This 1/2 mile loop trail passes through the modern Ponderosa pine forest. It is the Monument's shortest trail. It is fully wheelchair accessible. The trail begins at the end of the outdoor exhibit area which is behind the visitor center.
Hornbek Homestead Ground Tour
Walk the grounds of an historic 1878 homestead. Wayside exhibits and a brochure will help you learn about the ranching and homesteading history of the area. The Hornbek Homestead is located one mile north of the visitor center entrance road.
For more information on the Historic Hornbek Homestead, visit http://www.nps.gov/flfo/historyculture/places.htm
Did You Know?
In 1922, Fossil Cycad National Monument, in South Dakota, was established as the third NPS area to preserve fossils, however by the mid 1930s all the fossils visible at the surface had been removed, leaving nothing for visitors to see. As a result, congress removed Fossil Cycad National Monument from the National Park System in 1957.