Plan Your Visit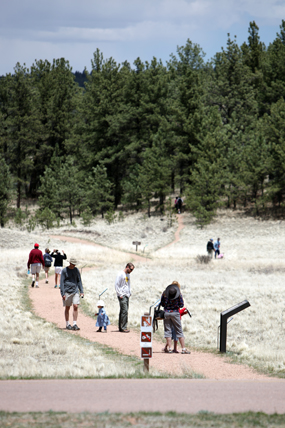 NPS Photo by Sheena Grabski
Florissant Fossil Beds National Monument boasts 2 different kinds of fossils, massive petrified redwood tree stumps and small carbon impression fossils of plants and insects.
It can be a great place to visit any time of the year, however, during the summer there are an assortment of ranger led programs such as interpretive talks and guided ranger walks offered daily.
Nearly all visits begin with the "Shadows of the Past" orientation film in the Visitor Center Theater, followed by viewing the small delicate plant and insect fossils on display in the Visitor Center. Then most visitors go for a hike on the self guided Petrified Forest Loop to see the petrified tree stumps. In addition to viewing fossils, there are 14 miles of scenic hiking trails.

Besides the Visitor Center parking area, there are 2 additional parking areas for relaxing and exploring:
The Barksdale Picnic Area near the eastern boundary offers 2 metal grills and 4 picnic tables.
The Historic Hornbek Homestead parking lot, north of the Visitor Center on Teller 1 offers 2 picnic tables as well as information about Adeline Hornbek who once lived in the historic homestead.
Visitor Center parking area offers 9 picnic tables and 2 metal grills for your enjoyment.
There are also 2 different programs for children:
Junior Ranger for children ages 4 years old and above
Junior Paleontologist for children ages 5-12 years old
The children's activity booklets are available in the Visitor Center.

Click on "For Kids" for more details on kids' programs


Did You Know?

Fish are the most abundant vertebrates at the Florissant fossil beds, and the bowfin is the most primitive fish found here. The modern bowfin is considered a "living fossil" and is found in freshwater bodies of eastern North America.This image is protected by copyright. All rights reserved. To learn More...