Plan Your Visit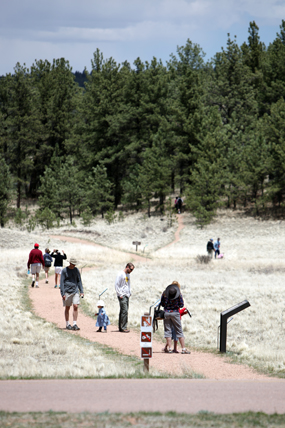 NPS Photo by Sheena Grabski
Florissant Fossil Beds is a great place to visit any time of year, although most visitation takes place late spring through early fall.

Getting Started:
We recommend all new visitors begin their adventure at the Visitor Center. There you can receive orientation information as the information desk and see the "Shadows of the Past" orientation film. In the visitor center you can explore exhibits and the bookstore.
If we have 2 - 4 hours:
Most visits last about 2 - 4 hours. During this time we recommend:
Seeing the park film and exploring the exhibits
Hiking on the self guided Petrified Forest Loop (1 mile) to see the petrified tree stumps or the 1/2 Ponderosa Loop Trail
Attending a ranger program (June 1 - Labor Day)
Participating in the Junior Ranger program (4 - 12 year olds)
visiting the grounds of the Hornbek Homestead
having a picnic lunch
Besides the Visitor Center parking area, there are 2 additional parking areas for relaxing and exploring:
The Barksdale Picnic Area near the eastern boundary offers 2 metal grills and 4 picnic tables.
The Historic Hornbek Homestead parking lot, north of the Visitor Center on Teller 1 offers 2 picnic tables as well as information about Adeline Hornbek who once lived in the historic homestead.
Visitor Center parking area offers 9 picnic tables and 2 metal grills for your enjoyment.


Did You Know?

Weevils are a type of beetle, and they are among the smallest complete fossils found in the Florissant fossil beds. The fossil pictured here is less than 3 millimeters long, which is a little larger than the head of a pin but smaller than a pencil eraser. This image is protected by copyright. All rights reserved. To learn More...