Passport Program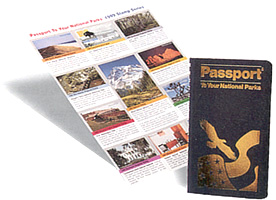 America's natural treasures - our National Parks - are presented in one handy booklet with the Passport To Your National Parks program. This travelogue includes color-coded maps, pre-visit information, illustrations and photographs. It includes a list of every national park area in the United States. Spaces allow you to collect the series of commemorative Passport stamps issued each year.
There are extra pages in the back if you want to place all Tejas trail stamps in one place. We suggest that you verify directions and hours of operation to be sure you can get El Camino Real de los Tejas National Historic Trail stamps.
To learn more about the passport program and to purchase a passport book, visit: www.eparks.com/
Updated 7-30-14
TEXAS
Bastrop State Park
100 Park Road 1A, Bastrop, TX 78602
512-718-0211
www.tpwd.state.tx.us/state-parks/bastrop
Caddo Mounds State Historic Site
1649 State Highway 21
West, Alto, TX 75925
www.visitcaddomounds.com/index.aspx?page=2
Casa Navarro State Historic Site
228 South Laredo Street
San Antonio, TX 78207
www.visitcasanavarro.com/index.aspx?page=3
Dimmit County Public Library
200 North 9th Street
Carrizo Springs, TX 78834
www.carrizosprings.lib.tx.us/
El Camino Real de los Tejas Travel Information Center
701 South Broadway Street
San Augustine, TX
(936) 275-1108
Fort Boggy State Park
4994 Hwy. 75 South
Centerville, TX 75833
www.tpwd.state.tx.us/state-parks/fort-boggy
Goliad State Park & Mission Espíritu Santo State Historic Site
108 Park Road 6
Goliad, TX
www.tpwd.state.tx.us/state-parks/goliad
www.tpwd.state.tx.us/state-parks/goliad/goliad-area-historic-sites
McKinney Falls State Park
5808 McKinney Falls Parkway
Austin, TX 78744
www.tpwd.state.tx.us/state-parks/mckinney-falls
Mission Tejas State Park
120 State Park Road 44
Grapeland, TX 75844
www.tpwd.state.tx.us/state-parks/mission-tejas
Monument Hill & Kreische Brewery State Historic Sites
414 State Loop 92
La Grange, TX 78945-5733
www.tpwd.state.tx.us/state-parks/monument-hill-kreische-brewery
Nacogdoches Convention and Visitors Bureau
200 East Main Street
Nacogdoches, TX 75961
www.visitnacogdoches.org/news.php?id=506
Republic of the Rio Grande Museum
1005 Zaragoza Street
Laredo, TX 78040
www.webbheritage.org/index_files/21RRG.htm
San Antonio Missions National Historical Park
6701 San Jose Drive
San Antonio, TX 78214
www.nps.gov/saan
Stone Fort Museum
Stephen F. Austin State University
936 North Street
Nacogdoches, TX 75962
www.sfasu.edu/stonefort/
Villa Antigua Border Heritage Museum
810 Zaragoza Street
Laredo, Texas
www.webbheritage.org/index_files/22BHM.htm
Did You Know?

Throughout the 19th century, portions of El Camino Real de los Tejas, now a national historic trail, became known as the Old San Antonio Road and were used as immigration routes for people coming from the United States.