2014 Compendium now available

The 2014 compendium is now available via the link below. It includes new prohibitions on the operation of unmanned aircraft systems (UAS) in national park units. More »
Things To Do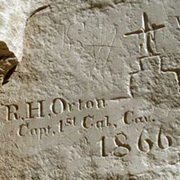 NPS photo
If you have an hour or less . . .

Walk the Inscription Trail and see why El Morro was proclaimed a national monument.This trail takes you to the pool and past hundreds of Spanish and Anglo inscriptions, as well as pre–historical petroglyphs. If you still have time when you return to the visitor center, watch the 15 minute video in the museum.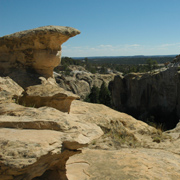 NPS photo
If you have 1.5 hours . . .

Walk the entire 2–mile
Headland Trail
. This includes the Inscription Trail but also continues to the top of the bluff for a look into the Ancestral Puebloan ruin, Atsinna.
Portions or all of the Headland Trail may be closed during the winter months.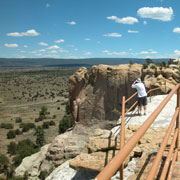 NPS Photo by S. Beckwith
If you have 2 hours or more . . .
Watch the 15-minute film for a great introduction to El Morro National Monument, walk the 2-mile Headland Trail, and finally, explore the exhibits and browse the bookstore back at the visitor center.


For Kids

There are lots of things for kids to do at El Morro! Read More

Take a hike!

From 17th century Spanish inscriptions to Ancestral Puebloan ruins, there's something for everyone. Read More

Camping and Picnicking

Why not stay awhile? El Morro has a picturesque campground and picnic area. Read More
Did You Know?

It is likely the early inhabitants of Atsinna Pueblo at El Morro National Monument collected water when they could from the many tinajas found across the top of the mesa. These natural depressions in the sandstone hold rain during the summer monsoons and snowmelt during the winter.