Camel Corps Commemoration!

Join us on Saturday, Sept. 20 and Sunday, Sept 21, 2014 as we commemorate the Beale Expedition of 1857 and the "camel corps"! There will be fun for the whole family and yes, live camels! More »
2014 Compendium now available

The 2014 compendium is now available via the link below. It includes new prohibitions on the operation of unmanned aircraft systems (UAS) in national park units. More »
Directions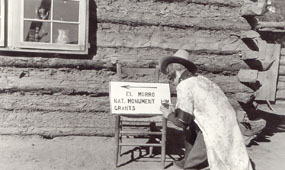 NPS photo
From Albuquerque, NM, or from the east: take Interstate 40 west to Grants. At exit 81, go south on Highway 53 for 42 miles to El Morro National Monument.

From Flagstaff, AZ, or from the west: take Interstate 40 east to Gallup. At exit 20, go south on Highway 602 for about 31 miles. Turn east (left) onto Highway 53. El Morro is 25 more miles. If you'd like to drive through Zuni from the west, take exit 339 from Interstate 40 in AZ, and go south on Highway 191 for 24 miles. Take Highway 61/53 into Zuni. El Morro is about 36 miles from Zuni.

Caution: Commercial trucks frequent Highway 53. Please exercise caution when turning onto and off of the highway.


Did You Know?

El Morro National Monument's avian claim to fame is the White-throated Swift, which was described to science for the very first time here in 1851, by Dr. S. W. Woodhouse of the Sitgreaves Expedition.