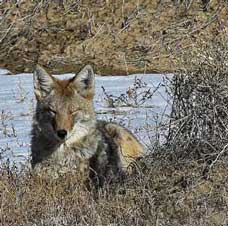 Dale Dombrowski, NPS
Taking a drive or walk in the monument can provide you with a wonderful wildlife experience. Squirrels, mule deer, and elk are the most commonly encountered mammals in the monument. However, there are many other species often found during the course of a visit. Rabbit, coyote, and fox usually scurry across the road ways, while the seldom seen mountain lion and bob cat wander through the woods at night. Black bear may be seen throughout the monument, especially in the Ponderosa pine forest. Mammals have all adapted to living in this unique environment, and many take advantage of the shelter provided by the numerous lava tube caves.
Bats are common at night and in the caves. Click here to learn about bats!