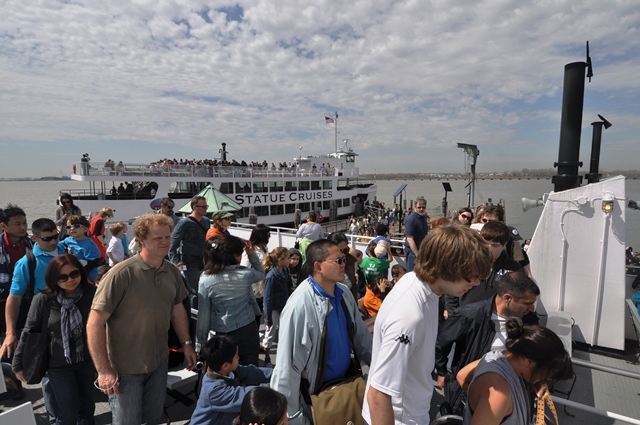 NPS PHOTO
FOR NEW YORK
Battery Park, New York City: (Map: Google, Bing)
Take the East Side Drive (FDR Drive) south to Battery Park and State Street or the West Side Highway/West Street/Route 9A south to Battery Place. Designated parking is not available. Privately operated parking lots are located along West Street and South Street (beneath the FDR Drive) and may be used for a fee. Because parking is limited, it is best to arrive early or, better yet, to take public transportation.
GPS Address: 1 Battery Place, New York, NY 10004
Wheelchair/Handicapped-Accessible Parking to get to the ferry: Official placards are required in order to park in designated public parking spaces available in New York City. The closest metered parking spaces to Battery Park are on Battery Place. Private parking lots are available as well. Handicapped-accessible rest rooms are available in Castle Clinton National Monument and ferry ticket counters are handicapped accessible. For more information, including permits, please visit NYCDOT.
FOR NEW JERSEY
Liberty State Park in Jersey City, New Jersey: (Map: Google, Bing)
Those who board the ferry at Liberty State Park can not only visit Liberty and Ellis Islands, but can also visit lower Manhattan as well.
Take the New Jersey Turnpike Extension to Exit 14B. Follow the signs to Liberty State Park/Ferry to Statue of Liberty and Ellis Island. Ample parking is available at Liberty State Park for a fee.
GPS Address: 1 Audrey Zapp Drive, Jersey City, NJ 07305
Wheelchair/Handicapped-Accessible Parking to get to the ferry: Designated spots for those with official placards are available. There are level walkways to the ferry boarding area. Handicapped-accessible rest rooms are located within the Central Railroad of New Jersey Terminal at Liberty State Park.