Ellis Island is open on a limited basis while repairs continue.

Ellis Island has reopened on a limited basis. Due to the nature of the destruction caused by Hurricane Sandy parts of the historic Main Building and museum, including most of the exhibits and both elevators, remain closed at this time. More »
Operating Hours & Seasons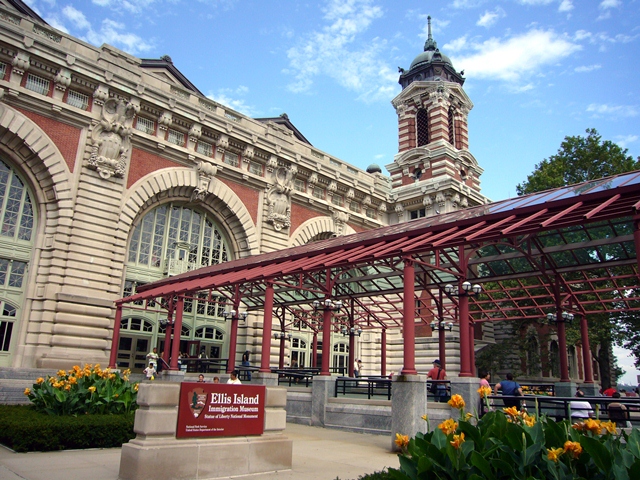 NPS PHOTO
SEASONS

Ellis Island is open every day except December 25. Weather can influence the ability of the ferries to run so check us out on Twitter in the event of inclement weather.
To enjoy both Ellis and Liberty Islands with ample time, please leave either lower Manhattan or Jersey City before 1:00 P.M.

Fall 2013 Boat Schedule
FIRST FERRY
Departs from Mainland
LAST FERRY
Departs from Mainland
CLOSING FERRY
Departs from Liberty Island
9:30 A.M.
3:30 P.M.
5:00 P.M. *

* Liberty Island begins closing 15 minutes prior to the final departure.
PLANNING YOUR VISIT
Ellis and Liberty Islands are open every day except December 25.
Visit the Fees and Reservations section for ticket prices.
When arriving, please allow for time to pass through security.
Ferry schedules are listed on the Statue Cruises website or at the Information Center on Liberty Island.
Wait times to board any ferry can be over 90 minutes during peak months (April - September) and holidays. It is essential to factor in extra time for security clearance, ferry boarding and ferry transportation when planning your trip.
For additional information, please contact the park.

Statue of Liberty National Monument is part of the National Parks of New York Harbor.



Statue of Liberty | Ellis Island | Gateway | Castle Clinton | Federal Hall | St. Paul's Church | General Grant
Hamilton Grange | Theodore Roosevelt's Birthplace | Governors Island | African Burial Ground


Did You Know?

Since the passage of the "Steerage Act of 1819", passenger manifests have been required for all arriving vessels to be delivered to the U.S. Government and reported to Congress. This document, used for inspection at Ellis Island, has become an important starting point in researching family history.