Ground Floor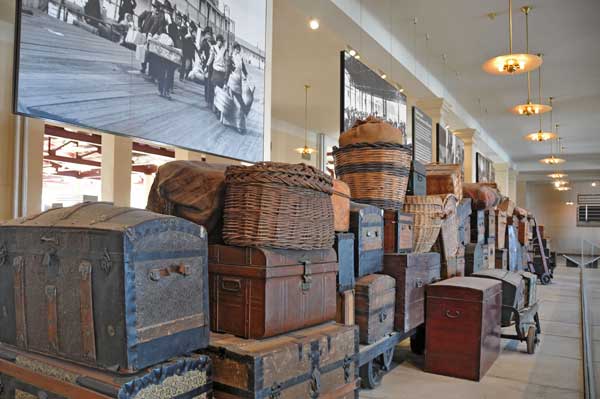 Statue of Liberty NM, National Park Service
Baggage Room
Once off the ferries, immigrants crowded through the main entrance of Ellis Island into this room where they could check their baggage. With thousands of people being inspected every day, keeping track of everyone's belongings was a major logistical problem and lost baggage a common complaint. Some immigrants, refusing to check their possessions, insisted on carrying them through the entire inspection routine.
"Journeys: The Peopling of America 1550 – 1890"
"Journeys" explores the early history of immigration before Ellis Island opened as an immigration station. It examines how immigration, both voluntary and involuntary, shaped the early landscape of this country and introduces visitors to the diverse groups of people, who, before 1890, populated the land that would become the United States.
Did You Know?

Since the passage of the "Steerage Act of 1819", passenger manifests have been required for all arriving vessels to be delivered to the U.S. Government and reported to Congress. This document, used for inspection at Ellis Island, has become an important starting point in researching family history.