Ellis Island is open on a limited basis while repairs continue.

Ellis Island has reopened on a limited basis. Due to the nature of the destruction caused by Hurricane Sandy, parts of the historic Main Building and museum remain closed at this time. The museum's artifacts remain in off-site storage. More »
Ground Floor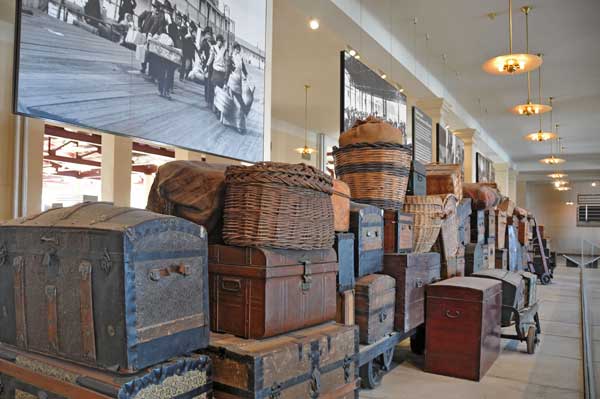 Statue of Liberty NM, National Park Service
Baggage Room
Once off the ferries, immigrants crowded through the main entrance of Ellis Island into this room where they could check their baggage. With thousands of people being inspected every day, keeping track of everyone's belongings was a major logistical problem and lost baggage a common complaint. Some immigrants, refusing to check their possessions, insisted on carrying them through the entire inspection routine.
"Journeys: The Peopling of America 1550 – 1890"
"Journeys" explores the early history of immigration before Ellis Island opened as an immigration station. It examines how immigration, both voluntary and involuntary, shaped the early landscape of this country and introduces visitors to the diverse groups of people, who, before 1890, populated the land that would become the United States.
Did You Know?

When Ellis Island was opened in 1892, the facility bore little resemblance to the Renaissance Revival/Beaux Arts structure that people have come to know today. Made out of Georgia pine, the complex caught fire on June 15, 1897 and burned to the ground in about 6 hours. The current building was opened on December 17, 1900.