Island of Hope, Island of Tears Documentary Film
Visiting Ellis Island
Update as of March 20, 2013: Due to extensive damage sustained during Hurricane Sandy, Ellis Island is closed indefinitely. Statue of Liberty will re-open on July 4, 2013.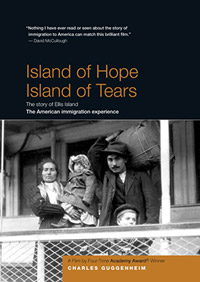 Students of all ages can watch "Island of Hope, Island of Tears." This award-winning documentary film reveals why and how millions of immigrants journeyed across the world to Ellis Island, hoping for a better life for themselves and their descendants. This free program, which includes a 15-minute ranger talk followed by the 30-minute documentary, begins at 11:00 and 12:00 and is strictly limited to 140 people (127 students max, along with their 13 adult chaperones). Other unreserved times may also be available.
You can access this film online at www.archive.org/details/gov.ntis.ava15996vnb1 to prepare for the visit and can even have your students watch this film in preparation for the field trip.
While this program does not have a formal Teacher's Guide, the following questions can help students begin to think about immigration a century ago. Please note that the theater is completely dark when the film is playing; we do not recommend that students be expected to physically answer questions on a worksheet during the film.
What conditions would make you want to leave your home forever?
If you had to carry everything you were bringing along, what would you pack?
What kinds of tests would you have to pass to be able to enter the United States as an immigrant?
If you didn't speak English, how would you get to your final destination?
Where would you go in the United States? Why?
What would you do for work in the United States? Why?
Additional ideas for introducing immigration and Ellis Island to your students may be found under "Curriculum Materials."