This Month in Ellis Island History
Click on the month below to learn interesting facts about Ellis Island's history, from famous immigrants' arrivals to events that happened here on Ellis Island over the years.
Did You Know?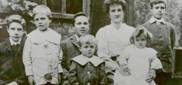 Most Americans remember Bob Hope for his work in the entertainment business as a comedian, actor, dancer and singer, as well as his work with the American troops abroad. Few people know that Bob Hope was an immigrant from England who came here with his family and passed inspection at Ellis Island on March 30, 1908, at the age of 5. (center of photo) More...