Ellis Island is open on a limited basis while repairs continue.

Ellis Island has reopened on a limited basis. Due to the nature of the destruction caused by Hurricane Sandy, parts of the historic Main Building and museum remain closed at this time. The museum's artifacts remain in off-site storage. More »
Thomas Family
Diab Catoni Thomas immigrated to the United States from Mtein, Lebanon in 1892. Mtein, a village near Beirut in Lebanon, flourished in the 18th century due to the rise of the silk industry in Lebanon. The village had seven textile factories where residents of Mtein and nearby villages worked.

After working for nine years peddling dry goods in Virginia, Diab returned to Lebanon where he married Mary Ramah and had two children. Mary formerly worked in one of the seven textile factories after her father broke his back when she was nine or ten years old. Mary and the children, Salene and Alene, immigrated to the United States in 1907.

The family settled in Matoaka, Virginia where Diab opened a successful general store. Diab and Mary had nine more children in America bringing their family to a total of five daughters and six sons. By the 1930s, the family had moved to Mullens, West Virginia where they operated a grocery store. Diab died in Mullens in 1971 at the age of 103.
Did You Know?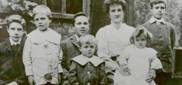 Most Americans remember Bob Hope for his work in the entertainment business as a comedian, actor, dancer and singer, as well as his work with the American troops abroad. Few people know that Bob Hope was an immigrant from England who came here with his family and passed inspection at Ellis Island on March 30, 1908, at the age of 5. (center of photo) More...