Primary Sources for your Classroom
NPS Photo
Primary sources are powerful tools to help bring history alive for students. Original documents, objects, photographs, and other firsthand accounts help students better understand the past.
This collection is meant to assist you in bringing priceless primary sources about Ellis Island in to the classroom. The items available here have been specifically selected to be useful in your classroom, either as part of a lesson plan or integrated into your curriculum.
Two resources for both finding and using primary sources with students are the Library of Congress (LOC) and the National Archives (NARA). Each website has fantastic tools for teachers.
LOC's Using Primary Sources page for teachers contains steps for using primary sources in the classroom, teacher's guides, analysis tools, and other helpful information for teachers.
NARA's Getting Started with Primary Sources in the Classroom page for teachers contains information and resources about using primary sources, resources for National History Day, and links to "Today's Document" and "DocsTeach" online resources.
If you have any suggestions for other primary sources you would like to see available on this page, please e-mail us.
Did You Know?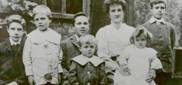 Most Americans remember Bob Hope for his work in the entertainment business as a comedian, actor, dancer and singer, as well as his work with the American troops abroad. Few people know that Bob Hope was an immigrant from England who came here with his family and passed inspection at Ellis Island on March 30, 1908, at the age of 5. (center of photo) More...