Ellis Island is open on a limited basis while repairs continue.

Ellis Island has reopened on a limited basis. Due to the nature of the destruction caused by Hurricane Sandy, parts of the historic Main Building and museum remain closed at this time. The museum's artifacts remain in off-site storage. More »
Catherine Remembers the Gaslights
Catherine Remembers the Gaslights

Catherine Gaetano Gallippi recalls her mother's disappointment with the power source in America.

Duration:

12 seconds

Credit / Author:

Ellis Island Oral History Collection

Date created:

1990-12-12

Download Original File:
Catherine Remembers the Gaslights (Transcript)
Interviewee: Catherine Gaetano Gallippi
Date of Birth: February 17, 1914
Date of Interview: December 12, 1990
Interviewer: Paul E. Sigrist, Jr.
Immigrated from Italy at Age 8 in 1922
Ellis Island Collection: EI-17
Gallippi (Her Mother's Disappointment with America): When we came here into America my mother complained, she says, "My God, I thought America was supposed to be something great. You have gaslights here. We had electric lights in Italy." (she laughs)

Did You Know?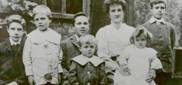 Most Americans remember Bob Hope for his work in the entertainment business as a comedian, actor, dancer and singer, as well as his work with the American troops abroad. Few people know that Bob Hope was an immigrant from England who came here with his family and passed inspection at Ellis Island on March 30, 1908, at the age of 5. (center of photo) More...