Historic Immigration Station turned Immigration Museum
The Great Hall, Baggage Room, Stairs of Separation: Visiting Ellis Island is often a memorable experience. Ellis Island has reopened; however it is a limited opening. We are not yet able to offer our school programs and there is limited access within the museum. Please read additional information here. 
Teachers, click along the left to discover lesson plans and other resources to use in the classroom. If you're planning to visit with your class, consider our self-guided activity sheets.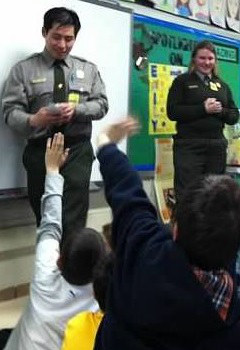 Features
Ranger in Your Classroom!

Park rangers offer curriculum-based education programs to 3rd, 4th, and 5th grade classes in NYC. Teachers, book your program today-it's free!

Read More

New onsite Field Trip Activities

Teachers are you planning a field trip and need ideas of what to do with your students? Let us help with onsite activities that we have created.

Read More

Primary Sources in Your Classroom

Listen to oral history excerpts and learn about finding manifests and using primary sources with your students.

Read More