Ellis Island is open on a limited basis while repairs continue.

Ellis Island has reopened on a limited basis. Due to the nature of the destruction caused by Hurricane Sandy parts of the historic Main Building and museum, including most of the exhibits, remain closed at this time. More »
After the Storm at Ellis Island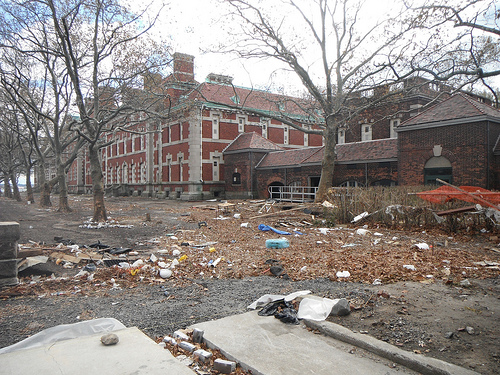 National Park Service
Ellis Island is currently closed following Hurricane Sandy. While there is little damage to the museum collection in the Immigration Building at Ellis Island, there is significant damage to the infrastructure. Doors and windows in the Ferry Building were severely damaged, as were exhibits in the building. There is significant damage to mechanical systems and the fire suppression system has been threatened. There was also standing water in the basement of the Immigration Building where the concessioners' supplies are stored.
An Incident Management Team gathered the data that will be used to determine the full extent of the damage, the costs to repair it, and how long it is likely to take. There is a major cleanup of the flooded areas underway, as well as repairs to the power and communications, and a project to ensure the safety of the Museum Collection.

Although a projected reopening date has not been established, please keep visiting this web site where you can keep up to date about the status of Ellis Island.
Did You Know?

During the island's 62 years of operation, over 12 million immigrants were processed at Ellis Island, including quite a few who went on to become famous such as: Frank Capra, Bela Lugosi, Baron Von Trapp, Irving Berlin, Max Factor, Claudette Colbert, Rudolph Valentino, Igor Sikorsky and Bob Hope.