El Camino Real de Tierra Adentro Interactive Map!
Here's a fun, exciting way to find Passport to Your National Parks sites. Zoom in to find a location in New Mexico or Texas. Click on the yellow balloon of your choice to see the site name, address, access, image, and website. Scroll down to find a list of Passport sites by state.
Please contact each site before you go to obtain current information on closures, changes in hours, and fees.
Note: Not all sites have images (yet).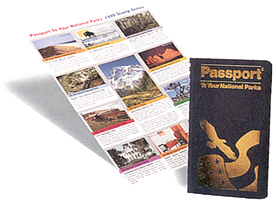 America's natural treasures - our National Parks - are presented in one handy booklet with the Passport To Your National Parks program. This travelogue includes color-coded maps, pre-visit information, illustrations and photographs. It includes a list of every national park area in the United States. Spaces allow you to collect the series of commemorative Passport stamps issued each year.
There are extra pages in the back if you want to place all El Camino trail stamps in one location. We suggest that you verify directions and hours of operation to be sure you can get El Camino Real de Tierra Adentro National Historic Trail stamps.
Where can you get your passport stamp cancellation?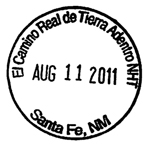 Passport Program sites (updated February 19, 2014)
NEW MEXICO
Palace of the Governors
105 West Palace Avenue
Santa Fe, NM 87501
505-476-5100
www.palaceofthegovernors.org
New Mexico History Museum
113 Lincoln Avenue
Santa Fe, NM 87501
505-476-5200
www.nmhistorymuseum.org/index.php
Old Santa Fe Trail Building
National Park Service
1100 Old Santa Fe Trail
Santa Fe, NM 87505
505-988-6888
The Museum of Spanish Colonial Art
750 Camino Lejo
Santa Fe, NM 87502
505-982-2226
http://spanishcolonial.org/

Lands Information Center
Bureau of Land Management
301 Dinosaur Trail
Santa Fe, NM 87508
El Rancho de las Golondrinas
334 Los Pinos Road
Santa Fe, NM 87507
505-471-2261
www.golondrinas.org/
Coronado Historic Site
485 Kuaua Road
Bernalillo, NM 87004
505-867-5351 or 800-419-3738
www.nmmonuments.org/coronado
Casa San Ysidro: The Gutiérrez-Minge House
973 Old Church Road
Corrales, NM 87048
505-898-3915 tour line
505-897-8828 direct line
www.cabq.gov/museum/history/casatour.html
Gutiérrez-Hubbell House
6029 Isleta Boulevard SW
Albuquerque, NM 87105
505-244-0507
www.bernco.gov/gutierrez--hubbell-house-191954/

The Albuquerque Museum of Art and History
2000 Mountain Road NW
Albuquerque, NM 87104
505-243-7255
www.cabq.gov/museum/
Sevilleta National Wildlife Refuge
I-25 at Exit 169
Socorro, NM 87801
505-864-4021
www.fws.gov/refuge/sevilleta/
Bosque Del Apache National Wildlife Refuge
1001 Highway 1
San Antonio, NM 87832
575-835-1828
www.fws.gov/refuge/bosque_del_apache/
El Camino Real Historic Trail Site
300 East County Road 1598 (take I-25 to Exit 115)
San Antonio, NM 87832
575-854-3600
www.nmmonuments.org/el-camino-real
Fort Craig Historic Site
Take I-25 to northbound Exit 115 or southbound Exit 124
Socorro County, NM
575-835-0412
www.blm.gov/nm/st/en/prog/recreation/socorro/fort_craig.htm
Fort Selden Historic Site
1280 Fort Selden Road
Radium Springs, NM 88054
575-526-8911
www.nmmonuments.org/fort-selden
Mesilla Plaza
J. Paul Taylor Visitor Center
2231 Avenida de Mesilla
Mesilla, NM 88046
575-524-3262
www.oldmesilla.org/
NM Farm and Ranch Heritage Museum
4100 Dripping Springs Road
Las Cruces, NM 88011
575-522-4100
www.nmfarmandranchmuseum.org/
TEXAS
El Paso Museum of History
510 North Santa Fe Street
El Paso, TX 79901
915-351-3588
www.elpasotexas.gov/history/
Chamizal National Memorial
800 South San Marcial Street
El Paso, TX 79905
915-532-7273
www.nps.gov/cham
Los Portales Museum
1521 San Elizario Road
San Elizario, TX 79849
915-851-1682
www.epcounty.com/sanelizariomuseum/