Passport Program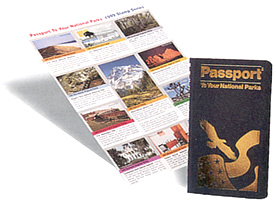 America's natural treasures - our National Parks - are presented in one handy booklet with the Passport To Your National Parks program. This travelogue includes color-coded maps, pre-visit information, illustrations and photographs. It includes a list of every national park area in the United States. Spaces allow you to collect the series of commemorative Passport stamps issued each year.
There are extra pages in the back if you want to place all El Camino trail stamps in one location. We suggest that you verify directions and hours of operation to be sure you can get El Camino Real de Tierra Adentro National Historic Trail stamps.
To learn more about the passport program and to purchase a passport book, visit: www.eparks.com
Passport Program sites (updated February 19, 2014)
NEW MEXICO
Palace of the Governors, 105 West Palace Avenue, Santa Fe
Old Santa Fe Trail Building, National Park Service, 1100 Old Santa Fe Trail, Santa Fe
Spanish Colonial Museum, 750 Camino Lejo, Santa Fe
Lands Information Center (Bureau of Land Management), 301 Dinosaur Trail, Santa Fe
El Rancho de las Golondrinas, 334 Los Pinos Road, Santa Fe
Coronado State Monument, 485 Kuaua Road, Bernalillo
Casa San Ysidro: The Gutiérrez-Minge House, 973 Old Church Road, Corrales
Gutiérrez-Hubbell House, 6029 Isleta Boulevard S.W., Albuquerque
The Albuquerque Museum of Art and History, 2000 Mountain Road N.W., Albuquerque
Sevilleta National Wildlife Refuge, I-25 at Exit 169, Socorro County
Bosque del Apache National Wildlife Refuge, 1001 Highway 1, San Antonio
El Camino Real International Heritage Center, take Interstate 25 to Exit 115 (County Road 1598) and head five miles east, Socorro County
Fort Craig National Historic Site, about 35 miles south of Socorro on County Road 273, off New Mexico Hwy 1, northbound Exit 115 or southbound Exit 124, Socorro County
Fort Selden State Monument, 1280 Fort Selden Road, Radium Springs
Mesilla Plaza, J. Paul Taylor Visitor Center, 2231 Avenida de Mesilla, Mesilla
Farm and Ranch Heritage Museum, 4100 Dripping Springs Road, Las Cruces, New Mexico
TEXAS
El Paso Museum of History, 510 N. Santa Fe Street, El Paso
Chamizal National Memorial, 800 South San Marcial Street, El Paso
Los Portales Museum, 1521 San Elizario Road, San Elizario

Did You Know?

Brought to the New World by Spaniards, horses first arrived in New Mexico in the 16th century. For years afterward, many more horses were brought in via El Camino Real de Tierra Adentro. Indian tribes captured thousands of them, which were dispersed across the plains and integrated into American Indian culture.