Plan Your Visit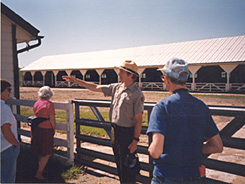 Eisenhower National Historic Site comprises 690 acres and includes four farms, three of which were used by President Eisenhower for his show herd of black Angus cattle. Today the farm is maintained as it was during the Eisenhower years and the President's home retains nearly all its original furnishings. You are invited to tour the home and grounds, and take a walk to the cattle barns and skeet range.
To visit Eisenhower National Historic Site, purchase your tickets at the Gettysburg National Military Park Visitor Center and Museum at 1195 Baltimore Pike. Entrance to the site is by shuttle bus which departs from the Visitor Center throughout the day, 9:00 am - 4:00 pm. Plan 11/2 - 2 hours for your visit.
Click here to download a copy of the Eisenhower Farm Map. (*pdf format)


Did You Know?

General Dwight D. Eisenhower would have been a sailor if born a year later. He applied to the Naval Academy in 1911, but did not meet the age requirements – he was too old. He was accepted to his second choice, the US Military Academy at West Point.