Eisenhower Education Programs

Question the President at a press conference, don a WWII helmet and reenact the landing at Normandy, conduct soil tests of the President's cropland, assume the role of presidential aides and prepare for a visit by world leaders... Eisenhower National Historic Site offers a variety of activities for students in its education programming for grades 4 -12.
A New Offering This Year...
Leadership in Time of Crisis - Video conferencing programs for grades 6 -12.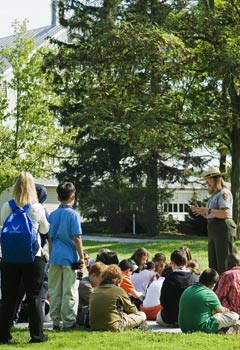 Features
Invite Ike to Your Classroom

Rangers are available to come to your classroom and conduct programs on civil rights, character development, and even the Secret Service.

Read More

Study Soil and Stream Ecology on the Farm

Students investigate environmental impacts and sustainable farming through real science in the field.

Read More

Ike, Man of Many Hats

Students portray Ike the president, general, major, cadet, ballplayer... and Mrs. Eisenhower as first lady in our character development program.

Read More