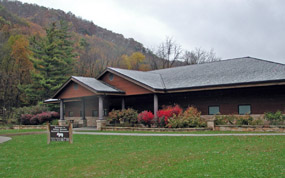 NPS Photo
Visitor Center

The visitor center is OPEN year round except for Thanksgiving Day, Christmas Day and New Year's Day and extreme weather conditions.

Hours
Spring Hours (April 4 to May 24)
-8:00 a.m. to 4:30 p.m.

Summer Hours
- Memorial Day to Labor Day, 8:00 a.m. to 6:00 p.m.

Fall Hours (September 3 to October 18)
-8:00 a.m. to 5:00 p.m.

Winter Hours (October 19 to April 3)
- Weekdays, 8:30 a.m. to 4:30 p.m.
- Saturday and Sunday 9:30 a.m. to 4:30 p.m. (January 3 to April 3)
Park Grounds
- Open daily, 362 days / year, sunrise to sunset (weather permitting). Access is offered (only) via 14 miles of hiking trails.

Location

Three miles north of Marquette, Iowa on Hwy 76 along the western shore of the upper Mississippi River.


Special Programs

Special ranger talks and Indian mound talks are presented periodically throughout the year.


Exhibits

Museum features artifacts, documents and maps from the monument's archeological collections.


Available Facilities

Auditorium with orientation film showing throughout the day, educational bookstore, restrooms.