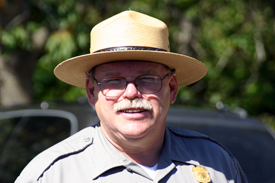 NPS Photo
A wide variety of guided tours and talks are offered throughout the year. During the summer (June 14th to September 1st 2014) guided interpretive tours to
Fire Point
are offered when staffing is available. For all program opportunities check our
"Calendar of Events".
S
elf-guided and interpretive tours often start with our 15 minute "Earthshapers" film about how and why the American Indians built the mounds.
---
Trail Hikes



A two-mile hike along the Fire Point Trail leads to over 20 mounds, including conical, linear, compound and bear effigy mounds. There is a
Fire Point Trail Guide available in the bookstore for a self-guided tour.

A one-mile walk along an accessible boardwalk trail leading into a wetland is also available. A visit to three conical American Indian mounds (no effigies) is included in this activity.
The Marching Bears is a four-mile hike in the South Unit. Guided tours are offered on special occasions.
Hanging Rock is a seven-mile hike from the Visitor Center.

Museum Tour
The museum contains American Indian artifacts up to 2,000 years old.
Stones, Bones and Sticks
Ancient tools and weapon demonstrations will be given on request. Please call ahead to set time and date.

Cultural Demonstrations
Visitors learn about weapons developed and used by the moundbuilders that enabled them to successfully hunt large animals such as deer, bison and elk. Programs include rangers demonstrating the traditional use of weapons such as the "atlatl".