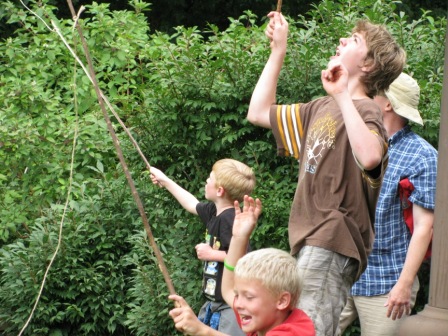 NPS Photo
Effigy Mounds Offers Exciting Junior Ranger Activities
Effigy Mounds National Monument will again present the annual summer Junior Ranger Programs. Events for children interested in the National Park Junior Ranger program will be scheduled throughout the summer. If you are unable to attend any of the events there is always the Junior Ranger Booklet. Ask at the Visitor Center for the booklet and an opportunity to earn National Park badges, patches, and certificates alone with learning more about the world that surrounds them.
Visit our Jr. Ranger Program Page with a copy of the Junior Ranger Book.

Special Junior Ranger Hikes
Saturday, April 25, at 1:00 p.m.
Saturday, June 13, at 1:00 p.m.
Saturday, July 18, at 1:00 p.m.
Saturday, August 22, at 1:00 p.m.
Kids' Archeology Day
Saturday, August 1 from 1:00 to 3:00 p.m.
Annual Kids' Archeology Day with American Indian crafts, games and a sand box dig.
Kids activities are planned throughout the year. Annual events such as HawkWatch and Children's Archeology Day offer hands on activities for the entire family. Kids can also become a Jr. Ranger or get the Junior Ranger Archeology Program Booklet and badge.


What do archaeologists do? What kinds of jobs and careers are they working at? This article from the Society for American Archaeologists Record from May of 2011 provides 12 personal accounts that prove archaeologists do much more than digging. If you are interested in the field of archaeology check this site.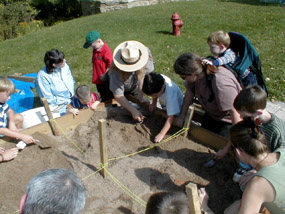 NPS Photo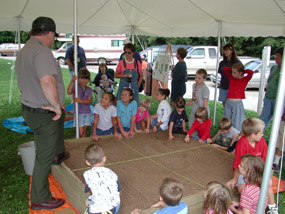 NPS Photo
Kids' Archeology Day
Sandbox dig