EXTREME SUMMER HEAT

Expect high temperatures of 100 to 120 degrees F on your summer visit to Death Valley. Heat related illness is a real possibility. Drink plenty of water and carry extra. Avoid activity in the heat. Travel prepared to survive. Watch for signs of trouble. More »
Zabriskie Point to close for repairs

Starting October 1, 2014 through March 31, 2015, all access to Zabriskie Point and surrounding area will be closed for major rehabilitation work to repair unstable support walls and improve conditions.
Weather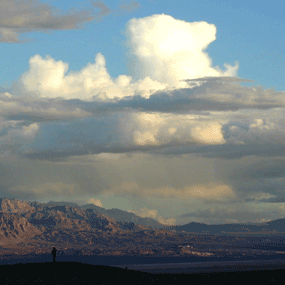 Death Valley is generally sunny, dry, and clear throughout the year. The winters, November through March, are mild with occasional winter storms, but summers are extremely hot and dry. Summer high temperatures commonly run above 120 degrees Fahrenheit. Comfortable clothing providing sun protection and a broad brimmed hat are recommended in summer. Winter requires warmer clothing and light to medium jackets. Sturdy walking shoes are important year round. More...


Did You Know?

The salt pan on the floor of Death Valley covers more than 200 square miles. It is 40 miles long and more than 5 miles wide.