Furnace Creek Campground Temporary Closure

Furnace Creek Campground will be CLOSED for construction starting April 16, 2013. Texas Springs Campground will remain open for summer camping in the Furnace Creek Area. More »
Scotty's Castle Fire Closure

Due to a fire at Scotty's Castle on May 20, the Scotty's Castle Visitor Center is closed, tours are cancelled, and power and phones are out. The road through Grapevine Canyon is closed. The castle may re-open on Tuesday May 28.
Weather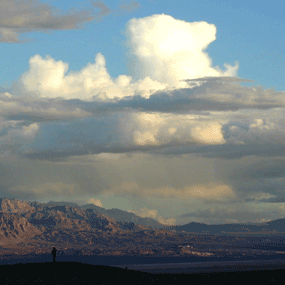 Death Valley is generally sunny, dry, and clear throughout the year. The winters, November through March, are mild with occasional winter storms, but summers are extremely hot and dry. Summer high temperatures commonly run above 120 degrees Fahrenheit. Comfortable clothing providing sun protection and a broad brimmed hat are recommended in summer. Winter requires warmer clothing and light to medium jackets. Sturdy walking shoes are important year round. More...


Did You Know?

Telescope Peak in Death Valley National Park was named by Dr. Samuel George in 1861. After climbing the 11,049 foot peak, Dr. George said that he could see so far that it reminded him of looking through a telescope.