Student Report Information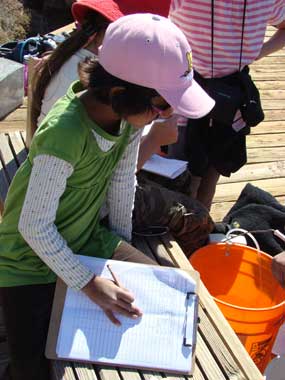 The National Park report is a time-honored tradition in classrooms across the country - and the world! At Death Valley National Park, we want to support your student's research efforts. Our Student Report Packet contains basic information about park weather and climate, geology, plants and animals, and history. For most elementary- and middle school-aged students, this packet provides all the information necessary to craft a thorough report.
For older students, or those seeking more specific knowledge, we have information on the park's endemic plants and animals, a first-person narrative from a Twenty Mule Team muleskinner, a list of earth's lowest elevations (Death Valley among them), and suggestions for day hikes in the park. We also encourage students to explore the Nature & Science or History & Culture sections of our website for additional information, or check out our Virtual Museum Exhibit. Students who want to interview a ranger, or who have very specific report needs should call the Education Specialist at the phone number below.
Students who wish to obtain a copy of the park's map and newspaper should email us, or write to the address below. Please note that it can take several weeks to receive these materials, so students should plan with due dates in mind. We recognize the value in letter-writing as a skill-building exercise, and we love to read student letters! In an effort to improve the park's carbon footprint, however, we try to minimize our own paper and postage usage, and so we will send your student a map and newspaper, but will refer them to the website for digital report materials. If your students do not have access to the internet, please have them specify this in their information request so we can make an exception and mail the Student Report Packet.
Thank you for introducing National Parks to your students!

To contact us:
Education Specialist
Death Valley National Park
P.O. Box 579
Death Valley, CA 92328
760-786-3226