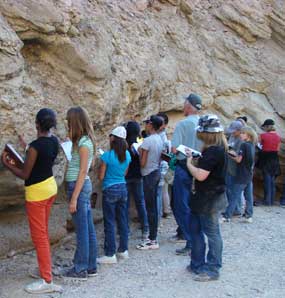 Despite its ominous name, Death Valley National Park is filled with life and extraordinary human experiences. We welcome you to share it with us! Like the entire natural world, if treated with respect it is a safe place to spend time and an ideal setting in which to learn.
Death Valley National Park was set aside because of its unique desert environment. It has features that are as individual as your students. In order to appreciate such a place, one must spend time in it. We look forward to working with you and learning together!
Schools traveling to Death Valley independently, and local schools can sample one or more of our curriculum-based environmental education day or night programs. Even if you don't participate in a ranger-led activity, you are welcome to plan a self-guided visit. For a taste of history and a feat of engineering, bring your students to Scotty's Castle, a 1920s and 1930s era mansion in the desert. Tour back in time to 1939, discovering tall tales and technology, as history comes alive before your eyes.
To contact us:
Education Specialist
Death Valley National Park
P.O. Box 579
Death Valley, CA 92328
(760) 786-3284