First Fifty Years - George Hopkins
Ray H. Mattison, Historian
National Park Service
1955
In the fall of 1941 the Tower made the headlines of the Nation's leading newspapers. This was brought about through the fool-hardy stunt of a professional parachutist named George Hopkins. Without the consent or knowledge of National Park Service officials, Hopkins, who held a number of United States and world's records for spectacular jumps, on October 1 parachuted from an airplane to the top of the Tower. His plan was to make his descent by means of a one-half inch 1,000-foot rope which was dropped from the plane. Unfortunately, this rope landed on the side of the Tower and Hopkins was unable to get it. The Park Service was confronted with a serious problem, and newspapers throughout the country made the most of the predicament. Telegrams and letters offering advice on how to rescue Hopkins came from all over the United States. Meanwhile, food and blankets were dropped to him while Service officials considered how to get the man down from the giant formation.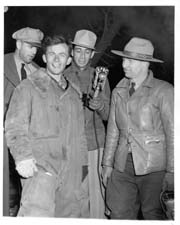 After weighing carefully various methods, the Service, on October 3, decided to accept the offer of Jack Durrance, a student at Dartmouth College, skier and mountain climber who had led the second mountain-climbing ascent of the Tower in 1938, to lead the rescue party. More food, water, and blankets were dropped to Hopkins and assurances were given him that help was coming. Advice and offers of assistance continued. The Goodyear Company offered to loan the use of a blimp to effect the rescue. The Navy offered the use of a helicopter. Bad weather, meanwhile, grounded Durrance's plane, so the mountain climber had to travel to Denver by train. On October 5, Durrance and his party arrived at the monument. Working closely with Service officials, they laid out a safe climbing route for rescue operations. On the following day, Durrance led seven other climbers to the summit of the tower where they found Hopkins who, in spite of his ordeal, was in excellent physical condition and in good spirits. The descent was made with little difficulty. The stranded stunt man and the rescue operations which received wide publicity attracted many spectators from all parts of the Nation. During the six-day period, some 7,000 visitors came to the monument to see him and witness rescue operations.
Within a few months following the Hopkins episode, the United States entered World War II. Travel to the National Park Service areas, except by members of the Armed Forces, was not encouraged. Personnel, as well as appropriations, needed to maintain the areas, were reduced to a minimum. Gas and tire rationing, together with reduced vacation time resulting from the War effort, was soon to be reflected in reduced travel figures. In 1942 the visitors at the monument numbered 20,874 in 1943, 5,114; 1944, 6,024; 1945, 7,315.