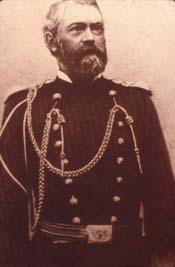 It remained for the U. S. Geological Survey party, who made a reconnaissance of the Black Hills in 1875, to call attention to the uniqueness of the Tower. Col. Richard I. Dodge, commander of the military escort, described it in the following year as "one of the most remarkable peaks in this or any country." Henry Newt (1845-1877), geological assistant to the expedition, wrote:
"Its [the Tower's] remarkable structure, its symmetry, and its prominence made it an unfailing object of wonder. . . It is a great remarkable obelisk of trachyte, with a columnar structure, giving it a vertically striated appearance, and it rises 625 feet almost perpendicular, from its base. Its summit is so entirely inaccessible that the energetic explorer, to whom the ascent of an ordinarily difficult crag is but a pleasant pastime, standing at its base could only look upward in despair of ever planting his feet on the top. . . "
Colonel Dodge is generally credited with giving the formation its present name. In his book, entitled The Black Hills, published in 1876, he called it "Devils Tower," explaining "The Indians call this shaft The Bad God's Tower, a name adopted with proper modification, by our surveyors." Newton, whose published work on the survey appeared in 1880, explained that the name Bear Lodge (Mateo Teepee) "appears on the earliest map of the region, and though more recently it is said to be known among the Indians as "the bad god's tower," or in better English, "the devil's tower," the former name, well applied, is still retained." However, since that time, the name Devils Tower has been generally used. Geologists, on the other hand, have in some instances continued to use the original name.