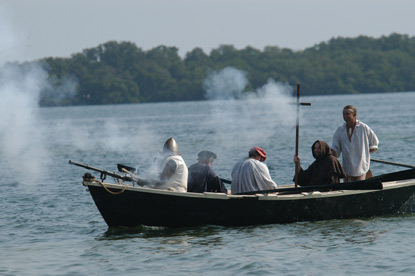 De Soto National Memorial is accessible by watercraft. The park is located on the south shore of the Manatee River, six miles downriver from Bradenton, Florida, near the mouth of Tampa Bay. An anchorage known as "The Cove" is located to the east of De Soto Point sheltered from the south and west, and partially sheltered from the north and east. Information about anchoring in the Manatee River and The Cove may be found by clicking here.

Important Park Rules
The following rules are important to note
Boats can not be tied to mangroves, benches, or other park vegetation or structures. The flutes of anchors of dingies may be set into the sand of the beach, as long as the set does not impede pedestrians or foul other craft.



Alcohol is not allowed in the Visitor Center, the beach adjacent to the Visitor Center, the parking lot, or the Living History Encampment.


The use of grills or creation of campfires is prohibited.



Dogs must be on a hand held leash at all times.



The Visitor Center and parking lot are open from 9:00 AM to 5:00 PM. There are no other restroom facilities.



The park is closed after dark.



After hours parking is available along 75th Street NW outside the park gates.